Turf Management and Science
A turfgrass manager oversees and implements management programs for the production, maintenance, and performance of a variety of turfgrass areas like golf courses, lawns, athletic fields, parks, and sod farms. Maintaining a high-quality, manicured turf that is subjected to intense use requires skill and experience.
The Turf Science curriculum is centered on basic scientific principles, technical agronomic information, business/management coursework, written/oral communication and problem solving skills to prepare students to handle a wide array of potential career paths.
Student Close-Up: When a Golfer Studies the Green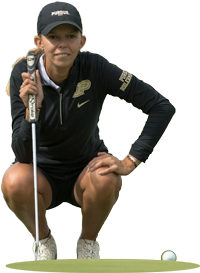 A Purdue golfer studying turf management and science must have an advantage on the course, right? Senior Marta Martin isn't so sure. "I don't think knowing how a plant grows or how they take care of it is going to help you," she says, explaining that she learned how to read the grain of the green when she was pretty young.
But she's learned something just as important. "I think it teaches you to value more the facilities you have and all the people working behind the scenes to keep them in such great condition."
And now she shares those tips with her teammates, sometimes to their dismay. "If you make the divots in a line, the turf grows faster. My teammates want the tee box to be in perfect condition, but how is it going to be in perfect condition if you spread the divots out and don't even put sand on them? That's probably the main fight of the season," she says, laughing.
Martin recently had an opportunity to see nature's unexpected effects on the game: the condition of the greens in Puerto Rico, severely damaged by Hurricane Maria six months before the golf team opened its season in February hosting the annual Lady Puerto Rico Classic. The team arrived at night, driving from the capital of San Juan through a landscape lined with downed road signs and without electricity for streetlights. They arrived at the Río Grande resort on the island's northeast corner, where the tournament is held, to find that recovery there was well underway.
Damage to bunkers on the resort's river course forced the tournament to move to a different course, and its carefully manicured condition impressed Martin. But Hurricane Maria's force was evident just beyond the course. Mountains and landscapes were no longer green and lush. Water and tilted trees filled a woodland area along the course. Evening walks on the beach revealed rainforest damage just outside the resort's perimeter, and recovery volunteers hauled fallen trees away.
Being a student-athlete has given Martin the ability to learn about other cultures and places, but it comes with scheduling complications. Faculty in the College of Agriculture have been supportive, she says. "I've had professors who really understand what I'm doing, and they know that I'm willing to work with them to arrange my exams when I'm missing my schoolwork."
---
Martin appreciates that turf management links the physical maintenance of a course with its day-to-day management. Some things are a given: required products, acreage, local weather, climate and so on. But one thing she learned from Bigelow is that you must also consider budgets and client expectations. "It teaches you that everything depends on the situation. There's no right or wrong answer."
Martin's Purdue Athletics family provided a ready-made community for her at Purdue, and being a student-athlete has taught her resilience. It forces her to examine her strengths and weaknesses, she says, and "It teaches you how, if you work hard, and you work on the right things, no matter what the outcome is, your mind is clear because you know you've been working on the right things."
Excerpts from Student Close-Up: When a Golfer Studies the Green, by Stacey Mickelbart. Envision - Friday, April 27th, 2018. Read the full article.
Plan of Study
Turf Management and Science Webpage
Transfer to Turf Management and Science
Purdue admits to individual majors. Transfer students must meet Purdue's overall transfer criteria, as well as any major-specific requirements. Before you apply, check the closed programs page to confirm this major is open to transfer students. If it is, refer to the information below for major-specific transfer criteria.
Minimum GPA: 2.5
---
Contact Information
Horticulture and Landscape Architecture
(765) 494-1302
hlacareers@purdue.edu
College of Agriculture
---
Careers in Turf Management and Science
The turfgrass industry nationwide is continuing to expand. The demand for college-educated personnel with a degree in turfgrass management is strong.
Career placement for graduates in this degree option has been 100 percent over the last 10 years. The industry continually needs well qualified, technically competent turf managers.
---