Animal Sciences (multiple concentrations)
Purdue University in West Lafayette
Animal sciences offers a sound education in science and prepares students for scientific careers in animal agriculture. Biotechnological industries seek animal science graduates, frequently offering unprecedented opportunities. In addition, students are prepared for graduate study in specialized fields of animal genetics, nutrition, physiology, food science, or management.
Students interested in continuing to a professional school, such as dentistry, medicine, or veterinary medicine, find this program to provide excellent preparation.
Concentrations include:
Animal Agribusiness
Behavior/Wellbeing
Biosciences
Pre-veterinary Medicine
Animal Production and Industry
Student Spotlight: Nira Grynheim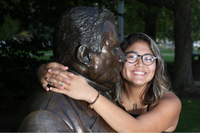 I graduated in May 2022 with a major in animal sciences and minors in critical disabilities studies and psychology. I would like to share my Purdue story with you.
When I was nine years old, I attended my first science camp at Purdue. It was a great experience that left me excited about learning. Ever since I have been in love with Purdue!
Once I was here there were several decisions that helped me find my way and make Purdue truly my own experience. The first was joining Purdue's chapter of MANRRS (Minorities in Agriculture, Natural Resources and Related Sciences). MANRRS is dedicated to the professional and leadership development of minority students. I currently serve as the president of our chapter.
I also joined the Purdue Filipino Association, a cultural and social student-led group that provided important opportunities for me to meet lifelong friends and to learn more about myself and the culture that I love.
I also joined with several peers to establish the Disabled Student Union (DSU) to create a safe space for students with disabilities on campus. 
During my time at Purdue, I worked as undergraduate researcher in the Organization for Human-Animal Interactions and Education Research lab under the leadership of Dr. Maggie O'Haire. In my last semester, I had the opportunity to work on my own research project investigating diversity, equity, and inclusion within the human and animal interaction field.  
When you get to Purdue, I encourage you to join several organizations where you feel like you belong - don't hesitate to "date" around a bit until you find the right groups. Also, I think it's so important to learn how to build relationships with your teachers. Go to their office hours, ask questions and talk to them one-on-one. Professors are tremendously important as mentors and can provide guidance with research positions, internships and possible job opportunities.
Plan of Study
Animal Sciences (multiple concentrations) Webpage
Transfer to Animal Sciences (multiple concentrations)
Purdue admits to individual majors. Transfer students must meet Purdue's overall transfer criteria, as well as any major-specific requirements. Before you apply, check the closed programs page to confirm this major is open to transfer students. If it is, refer to the information below for major-specific transfer criteria.
Minimum GPA: 2.5


---
Contact Information
Animal Sciences
(765) 494-4863
ansc4you@purdue.edu
College of Agriculture
---
Careers in Animal Sciences (multiple concentrations)
Students prepare for careers in animal sciences leading to careers in animal production, pharmaceutical and feed sales, products, biosciences research, nutrition, welfare and reproduction. Graduates attend Veterinary and Graduate School as well as work in animal behavior, vet clinics and zoos.
---