Animal Sciences (multiple concentrations)
Animal sciences offers a sound education in science and prepares students for scientific careers in animal agriculture. Biotechnological industries seek animal science graduates, frequently offering unprecedented opportunities. In addition, students are prepared for graduate study in specialized fields of animal genetics, nutrition, physiology, food science, or management.
Students interested in continuing to a professional school, such as dentistry, medicine, or veterinary medicine, find this program to provide excellent preparation.
Concentrations include:
Animal Agribusiness
Behavior/Wellbeing
Biosciences
Pre-veterinary Medicine
Animal Production and Industry
Student Spotlight: Johnnie Cheng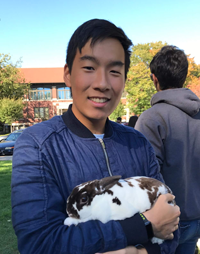 Unifying senior receives Leadership in Action Award
"I started my journey as a nervous high school kid on the other side of the world," said Johnnie "Junior" Cheng, recalling the first time he e-mailed a Purdue student ambassador. "I remember being scared, thinking this older college student must be the real deal."
Cheng was considering animal sciences programs in the United States, Canada, the United Kingdom and Australia. All were far from his home in Taipei, Taiwan.
"When I received his reply the next morning, I was amazed by the depth of his answers. There was so much energy in the way he wrote about the College of Agriculture. I was invigorated just by reading them because I could feel the passion bleeding from my iPhone screen. I needed to have what he was having."
Cheng was quick to adopt similar enthusiasm for Purdue. "That student inspired me to reach out and give back, so I applied to the Animal Sciences Ambassadors program my freshman year. I wanted to be a similar, enthusiastic resource for prospective students and their families."
Cheng joined as many organizations as he could through the Asian Student Union Board. "I was that one ambitious, extroverted freshman dancing from club to club. Any given day I had three or four meetings after school." Cheng rose to leadership roles in many over the next four years.
Cheng's widespread involvement led to his receipt of the 2021 France A. Córdova Leadership in Action Award. The annual award is presented to two students who have shown outstanding leadership abilities, demonstrated by successfully holding significant leadership roles and by working in partnership with faculty or staff to move Purdue forward.
Plan of Study
Animal Sciences (multiple concentrations) Webpage
Transfer to Animal Sciences (multiple concentrations)
Purdue admits to individual majors. Transfer students must meet Purdue's overall transfer criteria, as well as any major-specific requirements. Before you apply, check the closed programs page to confirm this major is open to transfer students. If it is, refer to the information below for major-specific transfer criteria.
Minimum GPA: 2.5
---
Contact Information
Animal Science
(765) 494-4823
ansc4you@purdue.edu
College of Agriculture
---
Careers in Animal Sciences (multiple concentrations)
Students prepare for scientific phases of animal agriculture leading to careers in animal genetics, nutrition, growth and development, reproduction, and herd management. Graduates pursue careers such as animal nutrition consultant, breeding manager, and animal environmental specialist.
---