Purdue University in West Lafayette
Farm Management prepares people for managing the home farm, professional farm management, or understanding the challenge of managing a farm.
Emphasis is placed on production, finance, marketing, and management strategies.
Student Spotlight: Jarrett Fischer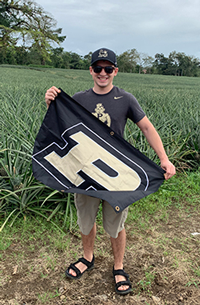 Hometown: Cory, IN
Highschool: Clay City High School
Major: Farm Management
Why did you come to Purdue: I chose Purdue because, after college I want to return home to work on our family farm and Purdue has one of the best colleges of agriculture in the nation. Purdue basketball also made it a pretty easy decision for me.
Five words to describe Purdue:
Exciting
Proud
Challenging
Options
Top five highlights of your career: 
Becoming the 34th pilot of the Boilermaker Special VII 
Making the World's Largest Drum Crew in the All American Marching Band
Studying Abroad in Costa Rica was also an unforgettable experience that I would recommend to anyone that gets the chance
Competing in powerlifting competitions with the Purdue Barbell Club
Waterskiing competition I competed in with the Purdue Waterskiing Club freshman year
Something you wish you would have done at Purdue: Honestly, I don't really have any regrets. I have been very active throughout my time at Purdue and tried just about everything that looks like something I might enjoy. If I had to pick something it would be to join the Marching Band my Freshman year instead of waiting till I was a Junior but, then I would have missed out on some of my other experiences.
Places you have been with as a Purdue student. 
I've been very fortunate to travel a lot throughout my time with Purdue with my various clubs. I've been to Iowa, Illinois, Penn State, MSU, IU, Northwestern, Wisconsin, and Tennessee for football games from my time in the Reamer Club and Band. 
A couple of my favorite trips was going out to Colorado snowboarding with the ski club. 
I also spent my Spring Break in Costa Rica for my Study Abroad sophomore year.
Have to redo college in a major not in Ag: If I had to pick a major outside of Ag I would be very torn between professional flight and business. If I had to pick one though I would probably choose professional flight though.
Plan of Study
Farm Management Webpage
Transfer to Farm Management
Purdue admits to individual majors. Transfer students must meet Purdue's overall transfer criteria, as well as any major-specific requirements. Before you apply, check the closed programs page to confirm this major is open to transfer students. If it is, refer to the information below for major-specific transfer criteria.
Minimum GPA: 2.5
---
Contact Information
Agriculture Economics
(765) 494-4201
agec1@purdue.edu
College of Agriculture
---
Careers in Farm Management
Graduates work as professional farm managers for a landowner or on the home farm.
---