Natural Resources and Environmental Science (multiple concentrations)
Purdue University in West Lafayette
Natural Resources and Environmental Science is a major for students who want to contribute to environmental change in the world.
This is a science-based, interdisciplinary program. With guidance from the NRES academic advisor and faculty, students design a plan of study that fits their interests and professional goals.
Graduates work in business and industry, consulting, nonprofit organizations, and state and federal agencies. Others continue their education in environmental science, engineering, or environmental law, or conduct research at a university or in industry.
Concentrations include:
Climate and Energy Solutions
Emerging Environmental Challenges
Environmental Policy and Analysis
Environmental Quality and Restoration
Sustainability Science
Watershed Management
Student Testimonial: Pavithra Chidambaram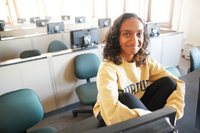 I chose to attend Purdue because I was able to receive good scholarships and be part of a large, diverse community of students and faculty. I also enjoyed how welcoming the College of Agriculture staff and faculty were on my Purdue's for me visit day. Even though Purdue's campus is large, I found my own smaller community within the NRES department.
 I also joined environmental clubs on campus, such as Boiler Green Initiative and Environmental Science Club, where I was able to meet others with similar interests. I was able to connect with my culture and be part of the South Asian community by joining Purdue Aharya (Purdue's Indian classical dance team).  
One of the most meaningful experiences I've had at Purdue is being an NRES ambassador. Through ambassador activities, I realized how much I enjoyed connecting with people and learning about their experiences. I mentored some new students and spoke with prospective students, which reminded me of my passion for helping my community.
Another leadership experience I have valued is being a director on my dance team. Working with the team to compete nationally and figuring out the logistics and creative ideas for our shows has been satisfying and empowering. Performing pieces that took months of hard work, fundraising and planning has been an extremely fulfilling experience.
Purdue is a place where I have been able to thrive. I wish the same for you!
Plan of Study
Natural Resources and Environmental Science (multiple concentrations) Webpage
Transfer to Natural Resources and Environmental Science (multiple concentrations)
Purdue admits to individual majors. Transfer students must meet Purdue's overall transfer criteria, as well as any major-specific requirements. Before you apply, check the closed programs page to confirm this major is open to transfer students. If it is, refer to the information below for major-specific transfer criteria.
Minimum GPA: 2.5
---
Contact Information
Natural Resources and Environmental Science
(765) 496-0376
nres@purdue.edu
College of Agriculture
---
Careers in Natural Resources and Environmental Science (multiple concentrations)
Environmental consultant
Remediation specialist
Environmental Safety Officer
Stream & wetland ecologist
Sustainability officer
Watershed manager
Soil conservationist
Environmental & urban planner
Hydrologist
Environmental policy analyst
Environmental educator
Environmental attorney (with graduate law education)
Soil conservationist
---