Natural Resources and Environmental Science (multiple concentrations)
Natural Resources and Environmental Science is a major for students who want to contribute to environmental change in the world.
This is a science-based, interdisciplinary program. With guidance from the NRES academic advisor and faculty, students design a plan of study that fits their interests and professional goals.
Concentrations include:
Climate and Energy Solutions
Environmental Policy and Analysis
Environmental Quality and Restoration
Sustainability Science
Watershed Management
Emerging Environmental Challenges
Graduates work in business and industry, consulting, nonprofit organizations, and state and federal agencies. Others continue their education in environmental science, engineering, or environmental law, or conduct research at a university or in industry.
Student Spotlight: Grace Johnson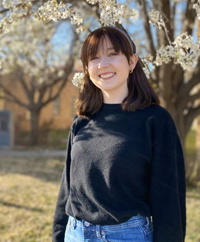 NRES and recent Udall scholar fueled by passion for her hometown
Grace Johnson, a rising sophomore in Natural Resources and Environmental Science (NRES), is one of 55 undergraduates in the U.S. to receive the prestigious Udall Scholarship. The Udall Foundation awards scholarships for students committed to the study of issues related to Native American nations or the environmental sciences.
With her studies in NRES and lifelong interest in environmental issues, Johnson thought she might be a good fit for the award. The Udall Foundation agreed.
For this scholarship, students apply under the state they are from, not the state in which they're studying. For Johnson that meant Oklahoma. It's especially fitting that she is the Udall scholar for this state, she said, as it was her experiences in her hometown of Guymon that sparked her passion for environmental studies.
"I grew up in the panhandle of Oklahoma, which is the closest thing you can find to a desert that isn't actually a desert," Johnson said. "It is an agricultural community so, as you can imagine, there are a lot of issues surrounding water usage. My grandparents were all farmers, so growing up I got a very intimate look at this subject."
As an agricultural community, Guymon relies heavily on irrigation, which requires a healthy and reliable water supply. Their water comes from the Ogallala Aquifer, the primary source of water for many communities in the High Plains-a region that spans Oklahoma, Kansas, Nebraska, Texas, New Mexico, Colorado, Wyoming and South Dakota.
"The thing with this aquifer is it's a fossil resource- when it's gone it's gone," Johnson said.
With the resource spanning state lines, it is subject to different regulatory policies, she explained. "Some states are managing it well. Other states, like Oklahoma, are not."
Currently, it is estimated the Ogallala Aquifer will dry up in 50 years, which would decimate Guymon and thousands of communities like it. The complexity and importance of this issue, and its intersection with so many different stakeholders and areas of research, is what prompted Johnson to join the NRES program at Purdue. Her goal has always been to bring her experiences back to her home state.
"This is really about the survival of my town and communities like it," Johnson said. "The NRES program was one of the only like it in the country and combined my interest in public policy, environmental and social sciences and the hard sciences. I'm going to need all that background."
Johnson has already accumulated a great deal of experience in these areas, serving as a page at the Oklahoma State Legislature and interning with the U.S. Green Building Council, a D.C.-based environmental policy foundation. This summer she is conducting research with NRES professor Linda Prokopy and hopes to explore additional research opportunities next year. After graduation she plans to attend law school in Oklahoma to expand her arsenal of tools in fighting for conservation of the Ogallala Aquifer.
"Some don't view the situation as very dire, but it is," Johnson added. "I've received very mixed reactions from family and my community about my studies and views on environmental policy. Some view regulation and conservation as a threat to their livelihood but I think I'm working to preserve that livelihood. I want to help communities change so they can continue to exist."
Plan of Study
Natural Resources and Environmental Science (multiple concentrations) Webpage
Transfer to Natural Resources and Environmental Science (multiple concentrations)
Purdue admits to individual majors. Transfer students must meet Purdue's overall transfer criteria, as well as any major-specific requirements. Before you apply, check the closed programs page to confirm this major is open to transfer students. If it is, refer to the information below for major-specific transfer criteria.
Minimum GPA: 2.5
---
Contact Information
Natural Resources and Environmental Science
(765) 496-0376
nres@purdue.edu
College of Agriculture
---
Careers in Natural Resources and Environmental Science (multiple concentrations)
Environmental consultant
Wetland scientist
Field chemist
Species conservation specialist
Hydrologist
Surveyor
Ecological risk assessor
Health and safety manager
Environmental attorney
Industrial engineer
Environmental hygienist
Pollution control director
Soil conservationist
---