Admitted Student Visit Opportunities
Are you ready to become a
BOILERMAKER

?

Your small step toward your next giant leap begins at Purdue University.
---
READY - SET - GO!
Explore the tabs below to discover a variety of visit opportunities and resources available to you. Not sure where to start? Use these filters to HAMMER DOWN the options!
Office of Admissions Visit Opportunities
Our Admissions Counselors and Student Ambassadors are ready to answer your questions and are eager to show you around campus! Register for an In-Person Campus Tour, a Virtual Campus Tour, or a Virtual Admissions Information Session. 
---
Contact Admissions
Have questions about your specific situation? Reach out to us via phone (765) 494-1776 or email admissions@purdue.edu
---
---
Explore Your Academic College
---
Certificate of Entrepreneurship and Innovation
Certificate in Entrepreneurship and Innovation Program
The award-winning and Princeton Review ranked Certificate in Entrepreneurship and Innovation Program is designed to turbocharge any Purdue undergraduate degree. In this program, you will earn a credential similar to a minor by completing five courses, some of which may overlap with requirements in your major.
Click the link below to learn how this program might fit with your major and MORE!
Learn more here
Entrepreneurship Program for Virtual Q&A Sessions
Join the Entrepreneurship Program for Virtual Q&A Sessions via live Zoom video conferencing held Mondays at 11 a.m. and Thursdays at 7p.m. EST now through May 3, 2021. Click on the link below to register via email today.
Register here
---
Division of Financial Aid
Division of Financial Aid
The Division of FInancial Aid office (Schleman Hall, Room 305) will be open to walk-in visitors beginning January 11, 2021. Office hours will be 10:00 AM to 5:00 PM, Monday - Friday.  Masks are required.
Additionally, virtual counseling opportunities are available through Zoom! Counselors will be available on the dates and times listed below, and will happily "visit" with you. Just click the link below during the appointment time, and pop into their virtual lobby.  The host will move you into a virtual counseling room where you can speak privately with a financial aid counselor.  No appointments are necessary – just stop in when it's convenient for you. 
Note: All times listed are Eastern DST. 
---
Discover Diversity at Purdue University
At Purdue University, we define Diversity as excellence expressing itself through the intersections of perspectives and lived experiences.
A wide array of opportunities to connect with our Cultural Centers,  College Diversity Programs and more are now available.
Take a Look
---
Early Start & Summer Start
One-on-One Virtual Meetings with Summer Session
The Division of Summer Session is available for virtual one-on-one personalized meetings. Early Start, Summer Start, or Summer College for High School Students – find out if any of these opportunities are a perfect fit for you!
Register Now
---
One-on-One Custom Visits Available
Custom visits with the Purdue University Honors College are designed for students at any stage of their college search.
 
Students and families will have the opportunity to meet with a member of the recruiting team to find out more about the Honors College curriculum, speak with a current Honors College Ambassador, and (for our on-campus custom visit opportunities) receive a tour of Honors College facilities.
Learn more during their Information Sessions!
Learn about the  Purdue Honors College and Residences and hear all about the Honors College experience from current students, faculty, and staff.
Are you ready to 'Forge the Future'?!
Learn about the Honors College at your own pace! 
The Purdue Honors College is a residential college that seeks to educate the whole student and bridge the gap between curricular and extracurricular learning. The Honors College hopes to draw curious, motivated, and dedicated students who want to be a part of a diverse community of scholars.
Forge Ahead
---
Come meet and chat with University Residences & Dining members to learn more about what it is like living and dining on-campus. With close to 15,000 spaces and over 30 dining locations, we have something for everyone!
How to use my meal plan as a student
Come learn how to use your meal plan as a student.  How do I decide where to eat?  What if I have class through lunchtime?  How do I use my Dining Dollars?  What happens when I run out of Dining Dollars?  What is close to my class to get something to eat?  Will be able to find something I like to eat? Come talk and ask questions to current Purdue students about how they used their meal plans. Please note all events are at 7:00 P.M. Eastern Time, and the password is BoilerUp.
Click Here to Join the 'How to use your meal plan at Purdue' webinar


June 2
June 9 
June 16
June 23
June 30
July 6
July 15
July 20
July 26
Due to Covid-19, how has my meal plan changed?
A Dining & Culinary representative is ready to answer your questions about meal plans and how they've changed.  We'll break down each plan and review the changes made to them in response to the modified on-campus experience planned for this Fall semester.  Plus, we'll chat with Summer semester students to hear about their experiences using the dining courts.
Click here to join the "Protect Purdue Dining and Culinary" webinar


July 7, 2020 from 7-8 pm (EST)
July 8, 2020 from 9-10 am (EST)
July 15, 2020 from 2-3 pm (EST)
July 20, 2020 from 9-10 pm (EST)
July 28, 2020 from 8-9 am (EST)
July 28, 2020 from 7-8 pm (EST)



How to make student employment work with your class schedule


Chat with current students that work on campus in Dining & Culinary.  See how working in dining has helped them with time management skills, communication, team building, and leadership skills that they can use in the future.  Learn about Jumpstart an early arrival program so student do not have to start work and classes at the same time.  Learn about meal benefits while working in Dining & Culinary. Please note all events are at 7:00 P.M. Eastern Time, and the password is BoilerUp.

Click Here to Join the 'How to make Student Employment work with your class schedule' webinar


June 1
June 10
June 15
June 21
June 28
July 7
July 12
July 22
July 27
How to navigate food safety on-campus
Do you have food allergies or a special diet you follow and are worried about how your will find safe food on campus? Join Purdue Dining & Culinary's Registered Dietitian in a live Q&A video to learn how to manage a special diet in Purdue's dining courts. Learn what resources are available for self-navigating and what additional steps can be taken to stay safe while also enjoying a variety of delicious foods. Please note all events are at 7:00 P.M. Eastern Time, and the password is BoilerUp.
Click Here to Access the 'Food Allergy Information Session'


June 3
June 17
June 29
July 13
July 28
University Residences and Purdue Dining & Culinary: Virtual Visits
Step 1: Get admitted to Purdue
Step 2: Find housing
While that may not be the actual second step, we know finding housing as a new Purdue student is both exciting and exhausting. There are so many residence halls, dining courts, and apartments; where should you start? These virtual visits will be your ticket to learn more about living and eating on campus, your home away from home. On our virtual visits, we will take you on a room tour in one of our residence halls to give you a feel for what it's like to live on campus in our of our standard double rooms. We will also show you inside one of our dining courts to give you a "taste" of our award-winning on-campus cuisine. Housing and dining administrators will also present on how to sign up for on-campus housing and some other fine details of the process as well as answer any questions you may have about on-campus housing and dining. There will also be students available to give their perspective on what it's like to live, work, and play in our halls and dining courts. Come join us as we take you on a tour of our halls and answer all your questions regarding living and dining on campus. 
*Please note events are at 7:30 p.m., Eastern Time*
*Password is BoilerUp*
Feb 24
March 4
March 11
March 18
March 24
April 7
April 22
April 28
April 29
---
Visit opportunities with Student Success are currently being developed. Please check back for updates!
---
Connect with Classmates on Facebook
Join the 'Purdue University Class of 2025 (Official)' Facebook group! Here, students can introduce themselves, make connections, ask questions and more. An email invitation with steps on how to join was sent to the email address students used to apply to Purdue. 
MORE INFO
---
Ambassador Takeovers on Instagram
See Purdue University from our ambassadors point of view!
CHECK IT OUT
---
---
Explore Campus
Take a 360-degree look at campus and stop along the way to check out campus facts, photos and videos of the places that you'll frequent as a future Boilermaker!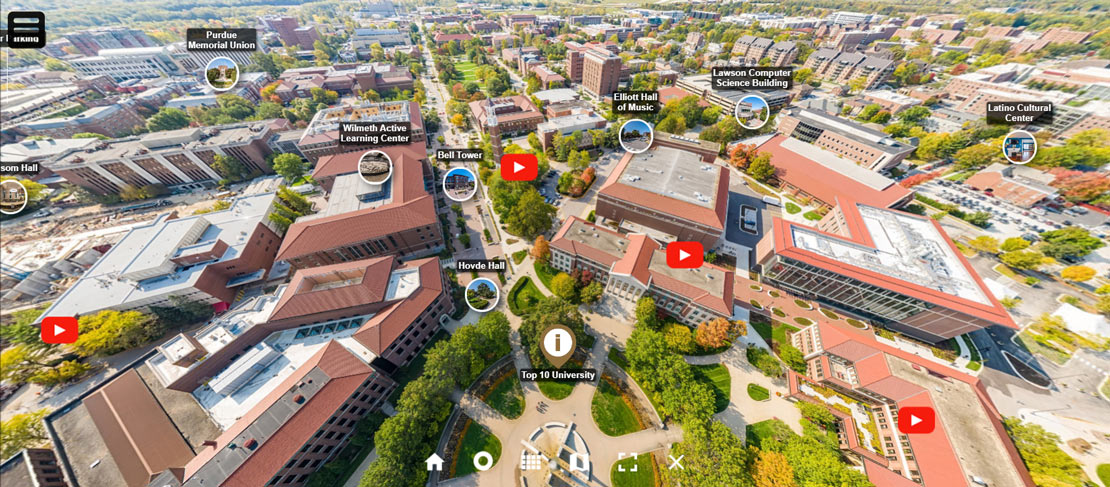 ---