Purdue University in West Lafayette
Insect Biology (a.k.a. Entomology) is the science of insects and related organisms. Insect biologists protect human and animal health, food, property and natural environments by better understanding the biology and ecology of insects. 
They work as scientists, educators, technicians, consultants, and specialists in urban, agricultural, and natural environments to prevent the spread of disease, feed the world, promote biodiversity, protect the environment, solve crimes, strengthen biosecurity, and teach science. 
Student Testimonial: Maya Fulton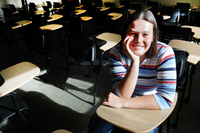 While touring Purdue, I met several students within the College of Agriculture who would boast about the great facilities, unique course offerings, diverse club options, etc. These factors piqued my interest, but it was the welcoming faculty who made me feel most comfortable in the college. They have always made me feel so supported throughout my journey at Purdue.
During the summer of 2021, I worked as an intern for Indiana's Department of Natural Resources within the entomology department. My job was to sort through trapped insect samples from around the state to look for evidence of invasive pest species. It was a truly valuable experience, and my supervisor was amazing! This position allowed me to explore what it might be like to work in a lab-focused career.
When deciding which university to attend, I always advise people to "go with the scary option." This means that you should attend the school that interests you and scares you a little at the same time. I'll always be so grateful that I chose Purdue because it has made me a more confident and courageous person.
Plan of Study
Insect Biology Webpage
Transfer to Insect Biology
Purdue admits to individual majors. Transfer students must meet Purdue's overall transfer criteria, as well as any major-specific requirements. Before you apply, check the closed programs page to confirm this major is open to transfer students. If it is, refer to the information below for major-specific transfer criteria.
Minimum GPA: 2.5
---
Contact Information
Entomology
(765) 494-9061
insectbiology@purdue.edu
College of Agriculture
---
Careers in Insect Biology
Basic life sciences (e.g., biochemistry, cellular and molecular biology, genetics, genomics, neurobiology and physiology, behavior, ecology, systematics and evolutionary biology)
Pest management (e.g., crop and livestock, forest, turf, urban and industrial, public health)
Environmental and ecosystem sciences (e.g., aquatics, biodiversity, ecology, conservation biology, toxicology)
Regulatory sciences (e.g., risk management, compliance and regulatory specialists)
Education (e.g., teachers, science educators [including zoos, museums and nature centers], extension specialists)
Specialties (e.g., apiculture, forensic science)
---