Insect Biology (a.k.a. Entomology) is the science of insects and related organisms. Insect biologists protect human and animal health, food, property and natural environments by better understanding the biology and ecology of insects. They work as scientists, educators, technicians, consultants, and specialists in urban, agricultural, and natural environments to prevent the spread of disease, feed the world, promote biodiversity, protect the environment, solve crimes, strengthen biosecurity, and teach science. Optional Forensic Entomology concentration available. 
Careers and interests are as diverse as the insects they work on. Watch the Experience Forensic Science video.
Purdue Agriculture Experience: Elaina Grott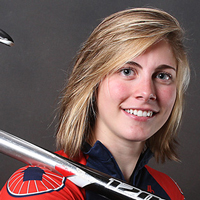 Elaina was one of those kids who would pick up beetles when everyone else was afraid of them. Her parents even used to joke that she would become an entomologist one day. Elaina forgot about that until she attended a program at Purdue. "The student who was showing me around campus was an entomology major. He said he got to dig through the dirt outside and find bugs for his job. I was sold."
My Purdue Path
Above and Beyond
I applied to several universities, all prestigious schools. But certain differences became clear when I visited them. Purdue really went out of its way for me. I met with the head of the entomology department and with professors. They wanted me here. No other school welcomed me like that. Entomology at Purdue is very personal. Your professors want you to succeed. They even give you their cell numbers and tell you to call. They care. I wouldn't trade that for anything.
Experiential Learning
I was fortunate to be an undergraduate research assistant on faculty projects. I worked in the vector biology lab where I studied genes in the black-legged tick, which carries Lyme disease. I also worked on a research project that studied the effects of insecticides on honeybee health. My academic advisor really looked out for me. He was a good friend and counselor—calming me down during a mid-college crisis and showing me ways to focus on my studies. He sought out opportunities for me, encouraging me to apply to speak at a Dean's Club event. He gave each student his personal effort.
A Volunteer at Heart
One of the many experiences that Purdue offers is the chance to give back to the community. I love volunteering. I wish it could be a career. You help other people and gain a valuable skill set yourself. Volunteering introduced me to many disciplines I would never have learned had I just stuck to my studies. I'm very grateful for that. I'm especially passionate about the issue of affordable housing. I served as president of Purdue's Habitat for Humanity chapter. We raised money to sponsor a student-built house in the community. I also biked 4,250 miles across the country with Bike & Build to raise money and awareness for affordable housing.
Gateway to a Career
The College of Agriculture's Career Fair has a huge impact. It's a great way to get your résumé out there, network, and pitch your story. The fair helped me get an internship with the U.S. Forest Service, monitoring Emerald Ash Borers in the Hoosier National Forest. I also got my first job after graduation through the fair when I met the vice president of Bartlett Tree Experts. We connected through my forest service internship and my interest in cycling.
Be Open to Opportunities
Bartlett was a good job right out of school because I was able to use my integrated pest management abilities and develop my entomology knowledge in a field setting. Learning how to climb trees and use a chainsaw was an added bonus! I currently work for SC Johnson as an associate entomologist, developing insecticides and repellents. I rear the insects we use to test our products, so I guess you could say that I'm a mosquito and cockroach farmer!
Some of the most influential lessons I learned at Purdue were to develop a solid network of contacts, to get involved in programs that better the university and community, and to keep as many opportunities open as possible. These lessons have helped me stand out in my career, and I know they will be essential in the years to come.
Plan of Study
Insect Biology Webpage
Transfer to Insect Biology
Purdue admits to individual majors. Transfer students must meet Purdue's overall transfer criteria, as well as any major-specific requirements. Before you apply, check the closed programs page to confirm this major is open to transfer students. If it is, refer to the information below for major-specific transfer criteria.
Minimum GPA: 2.5
---
Contact Information
Entomology
(765) 494-9061
insectbiology@purdue.edu
College of Agriculture
---
Careers in Insect Biology
Basic life sciences (e.g., biochemistry, cellular and molecular biology, genetics, genomics, neurobiology and physiology, behavior, ecology, systematics and evolutionary biology)
Pest management (e.g., crop and livestock, forest, turf, urban and industrial, public health)
Environmental and ecosystem sciences (e.g., aquatics, biodiversity, ecology, conservation biology, toxicology)
Regulatory sciences (e.g., risk management, compliance and regulatory specialists)
Education (e.g., teachers, science educators [including zoos, museums and nature centers], extension specialists)
Specialties (e.g., apiculture, forensic science)
---