Purdue University in West Lafayette
Biochemistry, the interface of biology and chemistry, is a driving force behind applications ranging from cancer treatment to biofuel production to antibiotic discovery, As the only Purdue program accredited by the American Society of Biochemistry and Molecular Biology, we offer the most comprehensive biochemistry coursework available.
Our students enjoy small class sizes and extensive opportunities for supportive mentoring by faculty, in part because of our historical placement in the College of Agriculture.  The Department of Biochemistry emphasizes experiential education and actively promotes hands-on research for our undergraduates.  A distinguishing feature of our program is the ability to match every interested student with a faculty member for independent research at Purdue.  In addition, we seek out opportunities in industry and at other academic institutions (domestic and international) to offer our students a broad array of real-world experiences to complement our extensive classroom offerings.
Graduates of our program are highly competitive in post-graduate programs (including M.D., D.V.M. and Ph.D.) and in industry careers.
Highlights of program include:
Bioinformatics minor
Graduate Certificate
Exchange program with Germany
There is also an opportunity to complete a five-year dual degree with biological engineering following acceptance into the College of Engineering.
Student Testimonial: Shelby Sliger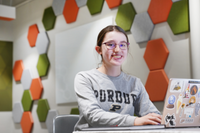 Joining a research lab and the Biochemistry Club has helped me feel like I belong here at Purdue. The people I work with in my lab truly feel like family, and I have greatly benefited from all the training and advice they have given me.  The guidance of my research mentor has played an integral role in guiding me to ask the right questions in research and encouraging me to challenge myself academically to prepare for graduate school. Biochemistry Club and forming study groups also helped me get to know other people in my major, which I think is very important both academically and socially.
Plan of Study
Biochemistry Webpage
Transfer to Biochemistry
Purdue admits to individual majors. Transfer students must meet Purdue's overall transfer criteria, as well as any major-specific requirements. Before you apply, check the closed programs page to confirm this major is open to transfer students. If it is, refer to the information below for major-specific transfer criteria.
Minimum GPA: 2.5
---
Contact Information
Biochemistry
(765) 494-1612
biochem-boilers@purdue.edu
College of Agriculture
---
Careers in Biochemistry
Biochemistry is an excellent choice for students who want to continue in graduate school or pursue professional degrees including but not limited to medicine, pharmacy or veterinary medicine.
In addition, trained biochemical scientists are in great demand for research and teaching in universities and for research and development work in chemical and pharmaceutical industries, medical laboratories, and state and federal governments.
---