Biochemistry operates at the interface of biology and chemistry and is a driving force behind rapid progress in applications ranging from cancer treatment to biofuel production to antibiotic discovery. As the only Purdue program accredited by the American Society for Biochemistry and Molecular Biology, we offer the most comprehensive biochemistry coursework available.
Our students enjoy small class sizes and extensive opportunities for supportive mentoring by faculty, in part because of our historical placement in the College of Agriculture.  The Department of Biochemistry emphasizes experiential education and actively promotes hands-on research for our undergraduates.  A distinguishing feature of our program is the ability to match every interested student with a faculty member for independent research at Purdue.  In addition, we seek out opportunities in industry and at other academic institutions (domestic and international) to offer our students a broad array of real-world experiences to complement our extensive classroom offerings.
Graduates of our program are highly competitive in post-graduate programs (including M.D., D.V.M. and Ph.D.) and in industry careers.
There is also an opportunity to complete a five-year dual degree with biological engineering following acceptance into the College of Engineering.
Purdue Agriculture Experience: Patrick Bustamante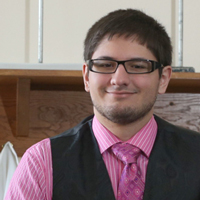 Science is at the root of most of Patrick Bustamante's life. "My classes, friends, hobbies, are mostly rooted in science," he says. "I really enjoyed doing research in my high school chemistry and biology classes." But he doesn't want to exclusively pursue science. "I think the well-rounded approach provides you with the best footing for your education, your career, and your life."
My Purdue Path
Well-Rounded Education
Patrick makes sure to include liberal arts classes in his schedule. "I'm a life science major, but I've taken classes in geography and women's studies. None of these classes benefit my biochemistry degree," he says, "but they benefit me as the whole package my future employer will get."
Outside of class, Patrick volunteers for Purdue Theatre productions as a stage technician, enjoys swimming at the Co-Rec, and explores activities on campus and in the community. "There are literally hundreds of things to do on campus…off campus, too. "
Getting to know international students is an additional benefit. "One-hundred and twenty-eight countries are represented in the international student population," Patrick says. "How exciting is it that we have representation from all corners of the globe? I've always been a person that prides himself on keeping a positive rapport with people without bias to race, religion, gender, sexual orientation, handicap, etc. And here that kind of respect is returned to me; I blend in."
Caring People
Patrick also appreciates the help he gets from staff and faculty. "I can't imagine that any college could put together a better staff than we have in the College of Agriculture. I believe Dean Fernandez probably knows the majority of students by name. My advisor is the best. She keeps a close eye on your programs, holds you accountable, and helps correct your course when you stray." His experience bears out the first impression that he took away from his first campus visit. "Nowhere else could duplicate my gut feeling that a second home was waiting for me in the College of Agriculture," he says.
Biochemistry to Law School
Patrick thought briefly about pursuing a degree in veterinary medicine, "but I decided I would be better suited to solve problems at the molecular level and take that knowledge of scientific research to law school to represent and protect people…who apply their knowledge to medicine, nutrition, and food production. I like to help people, and I want to do it through the legal field."
Last Words
"I would tell prospective and incoming Boilermakers that I understand the desire when you get here to focus in your field and limit your networking group to those with the same interest," Patrick says. "But I would say that would be a mistake, because life is the practice of liberal arts. Don't be afraid to find what you are not looking for."
Plan of Study
Biochemistry Webpage
Transfer to Biochemistry
Purdue admits to individual majors. Transfer students must meet Purdue's overall transfer criteria, as well as any major-specific requirements. Before you apply, check the closed programs page to confirm this major is open to transfer students. If it is, refer to the information below for major-specific transfer criteria.
Minimum GPA: 2.5
---
Contact Information
Biochemistry
(765) 494-1612
biochem-boilers@purdue.edu
College of Agriculture
---
Careers in Biochemistry
Biochemistry is an excellent choice for students who want to continue in graduate school or pursue professional degrees including but not limited to medicine, pharmacy or veterinary medicine.
In addition, trained biochemical scientists are in great demand for research and teaching in universities and for research and development work in chemical and pharmaceutical industries, medical laboratories, and state and federal governments.
---