Agricultural Economics (multiple concentrations)
Agricultural economics graduates apply economic and business principles for banks, farm credit institutions, feed companies, farm equipment and fertilizer manufacturers, and food processing firms.
Within agricultural economics, students can choose majors such as agricultural finance, agribusiness management, farm management, food industry marketing and management, quantitative agricultural economics, and sales and marketing.
Concentrations include:
Applied Agricultural Economics
Commodity Marketing
Quantitative Analysis
---
Boilers in the Shark Tank!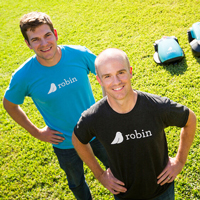 Boilermakers in the College of Agriculture are cutting their entrepreneurial teeth in dangerous waters: ABC's Shark Tank.
Bart Lomont (AAG and BS '07, Agricultural Sciences Education and Communication and Agricultural Economics), far left, and his business partner Justin Crandall pitched Robin Autopilot, the first robotic lawn service in the U.S. Grass cutting robots have advantages: they're on time, quiet, environmentally friendly with zero emissions and low-cost, allowing human lawn crews to focus on tasks like trimming and weeding.
While none of the sharks would bite, Lomont wasn't discouraged, noting that during the show, Robin Autopilot's website experienced 2,500 hits per second and interest from 400 potential franchisees.
Plan of Study
Agricultural Economics (multiple concentrations) Webpage
Transfer to Agricultural Economics (multiple concentrations)
Purdue admits to individual majors. Transfer students must meet Purdue's overall transfer criteria, as well as any major-specific requirements. Before you apply, check the closed programs page to confirm this major is open to transfer students. If it is, refer to the information below for major-specific transfer criteria.
Minimum GPA: 2.5
---
Contact Information
Agricultural Economics
(765) 494-4201
agec1@purdue.edu
College of Agriculture
---
Careers in Agricultural Economics (multiple concentrations)
Agricultural finance (Agriculture loan officer, financial planning, mortgage loan officer, lending analysis)
Agribusiness management (Corporate management, commodity trading, elevator management)
Farm management (Farm manager)
Food industry marketing and management (Food manufacturing sales, retail management, production management, brand management)
Quantitative agricultural economics (Law school, research analyst)
Sales and marketing (Professional sales representative, marketing manager)
---