Agricultural Economics (multiple concentrations)
Agricultural economics graduates apply economic and business principles for banks, farm credit institutions, feed companies, farm equipment and fertilizer manufacturers, and food processing firms.
Within agricultural economics, students can choose majors such as agricultural finance, agribusiness management, farm management, food industry marketing and management, quantitative agricultural economics, and sales and marketing.
Concentrations include:
Applied Agricultural Economics
Quantitative Analysis
Student Spotlight: Dane Erickson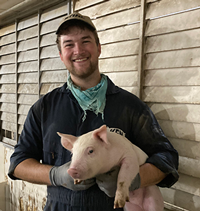 Broad experiences gave well-rounded education leading to Law School
Hometown: Clarks Hill IN
High school: Lafayette Jefferson High School
Major & Concentration: Ag Econ with a concentration in Quantitative Analysis and double major with Political Science
Why did you come to Purdue: Purdue offered a high quality education in agriculture with an affordable cost of tuition.
Favorite Purdue tradition: The Ag Council Moonlight Pancake Breakfast
Top three influences at Purdue: 
Dr. Carson Reeling and Dr. John Lee – I learned so much through doing research with both of these professors. They challenged me and helped me find something that I was passionate about. 
The Cooperative Community – I've had a great experience living in Marwood Cooperative and have made a lot of friends through being involved in my house and in the greater Cooperative Community
Amy Jones – Always a great friend and can brighten anyone's day. She is a great advisor to Marwood and the Ag Ambassador team!
Five words to describe Purdue: 
Rewarding
Educational
Affordable
Enjoyable
Quality
Top five highlights of your career: 
Studying Abroad to Mexico
Interning on Capitol Hill
Being President of Marwood
Being a part of Ag Council 
Being an Ag Ambassador
Something you wish you would have done at Purdue: Taken more classes just to learn. 
Places you have been as a Purdue student: 
Queretaro, Mexico Queretaro, Mexico – Study abroad and Internship with the University's Robotic Dairy Farm
Washington D.C. – Internship on Capitol Hill
Kemmerer, Wyoming and Douglas, Wyoming – Conducted research on eagle predation on lambs, worked with government agencies to use the data we collected to acquire depredation permits and advocate for policies aimed at mitigating rancher/eagle conflict. 
Kansas City, MO – AFA 
Litchfield, IL – Interned with Hickory Grove Pork Farm on their breeding and production team.
Have to redo college in a major not in Ag: Pre-Law and Society 
Favorite club/organization: Marwood Cooperative
Favorite Student-led event/initiative: Being a part of planning and putting on the College of Ag's 1st Annual FryDay in 2019.
Plan of Study
Agricultural Economics (multiple concentrations) Webpage
Transfer to Agricultural Economics (multiple concentrations)
Purdue admits to individual majors. Transfer students must meet Purdue's overall transfer criteria, as well as any major-specific requirements. Before you apply, check the closed programs page to confirm this major is open to transfer students. If it is, refer to the information below for major-specific transfer criteria.
Minimum GPA: 2.5
---
Contact Information
Agricultural Economics
(765) 494-4201
agec1@purdue.edu
College of Agriculture
---
Careers in Agricultural Economics (multiple concentrations)
Agricultural finance (Agriculture loan officer, financial planning, mortgage loan officer, lending analysis)
Agribusiness management (Corporate management, commodity trading, elevator management)
Farm management (Farm manager)
Food industry marketing and management (Food manufacturing sales, retail management, production management, brand management)
Quantitative agricultural economics (Law school, research analyst)
Sales and marketing (Professional sales representative, marketing manager)
---