Landscape Architecture (Pre)
Purdue University in West Lafayette
Landscape architecture allows students to develop abilities in problem solving, analytical thinking, and communication.
Three fundamental tracks run through the curriculum - design, technical, and plant materials. First-year students enter the pre-landscape architecture program and learn basic art, graphic communication, and design skills.
Based on performance in their first year, qualified students are admitted into the professional landscape architecture program. In their second year, increasingly challenging projects allow students to apply their knowledge. Third-year students complete larger-scale projects and focus on more diverse and technically difficult concepts. Between the third and fourth years, students complete a co-op program wherein students are placed in professional offices nationwide for a minimum of forty weeks. Fourth year students focus on "real-client" projects in urban and regional design.
Student Testimonial: Margaret Morse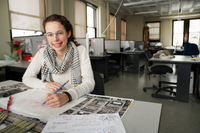 When I began my college search, I knew I wanted to study architecture and became increasingly interested in landscape architecture specifically. I applied to several universities, but I liked the emphasis on plants and horticulture that Purdue's program offers. I shadowed a student during a day of classes, and this helped me visualize fitting into the program.  
Another group that had an impact on me is the Purdue chapter of the American Society of Landscape Architects. In addition to learning how to lead and plan events, I connected with students, and was inspired and encouraged to learn about their internships and interests.
I took a trip to England a few summers ago during which we learned about the history of prominent gardens that influence horticulture and landscape design today. It was great seeing the amazing landscapes of England while connecting with students in my department, including a classmate who has become one of my closest friends.
I also had the opportunity to complete my 11-month internship at a landscape architecture design firm in Austin, Texas. I loved working with a diverse team of creatives and learned how to turn conceptual designs into detailed construction documents that allow them to be built!
Purdue is a wonderful university with strong academic programs and extracurricular communities. You can find support inside and outside the classroom. I've met some of the most genuine, authentic people I know here at Purdue and have access to postgrad opportunities thanks to the Purdue network.
Plan of Study
Landscape Architecture (Pre) Webpage
Transfer to Landscape Architecture (Pre)
Purdue admits to individual majors. Transfer students must meet Purdue's overall transfer criteria, as well as any major-specific requirements. Before you apply, check the closed programs page to confirm this major is open to transfer students. If it is, refer to the information below for major-specific transfer criteria.
Minimum GPA: 2.5
---
Contact Information
Horticulture & Landscape Architecture
(765) 494-1302
hlacareers@purdue.edu
College of Agriculture
---
Careers in Landscape Architecture (Pre)
Private practice
Governmental agencies
Land-use design
---