Agricultural Communication
Prepare for a profession that serves business and society by promoting awareness of food, agriculture, and science issues among rural and urban audiences. Purdue agricultural communication majors gain skills and experience in public relations, marketing, journalism, and new media through diverse coursework and competitive internships.
Through the program's design, students have the advantage of excelling in communication, science, and agricultural courses—a combination future employers value. Though situated within a large university, the agricultural communication program offers a close-knit community in which students receive personal attention from faculty and staff in the College of Agriculture.
Purdue Agriculture Experience: Hannah Brescher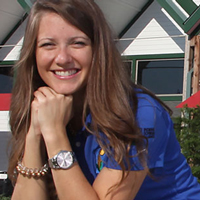 Hannah grew up in a small town in rural, southern Indiana. She worked at a local vet clinic for three years in high school, and everyone knew her as the girl who was going to Purdue to be a vet. But even the best-laid plans have a way of changing. "When I came here I thought I knew everything" Hannah says. "But you find out so much about yourself that you didn't know before. I learned that being a vet wasn't my true passion. Purdue helped me see that and what the world would be like after college."
My Purdue Path
Finding a New Dream
My dream was to become a vet—it's why I came to Purdue. At college I found there were many more jobs that I didn't hear about in high school. I also discovered I wasn't as passionate about veterinary medicine as I thought I was. My real passion is communicating; I just didn't see it as a career path. I kept my major in animal sciences, too, because it was a perfect connection with my new major in agricultural communication. It gave me exposure to the sciences, which made me more marketable as a communicator.
Purdue's Personal Touch
When I arrived on campus I expected big classes and big everything, because it's Purdue. But in the College of Agriculture I had smaller classes and one-on-one time with professors—more so than my roommates in other programs. I could call my professors, and they would make time to see me. I don't know if I would be where I am today if not for my academic advisors, particularly my career advisor. He helped me look at my strengths, discover what I liked to do, and focus on priorities. I'm so thankful for that. Purdue opened my eyes to many things.
Career Combines Agriculture and Communication
When I graduated, people said to me, "What are you going to do? Talk to animals?" No, I don't talk to animals, but I do talk to people about animals, food, and agriculture. I started in a job writing e-learning programs for ag companies. My current position is director of education for the Indiana Soybean Alliance and Indiana Corn Marketing Council. The really cool thing is that I get to talk to people, teachers, and consumers about agriculture and what farmers are doing today. It's an awesome opportunity that aligns well with what I did at Purdue. I'm in agriculture, and I'm communicating about it.
Agriculture Touches Everything
If you're considering Purdue and agriculture, I say, "Yes, go for it!" Agriculture is hot right now. But, truthfully, it's hot all the time. People always have to eat, and that's not going to change. Ag is always going to be there. There are so many opportunities ahead of you. Communicators, food scientists, and engineers, for example, all touch agriculture. Everything you learn in the College of Agriculture will help you in your career.
Plan of Study
Agricultural Communication Webpage
Transfer to Agricultural Communication
Purdue admits to individual majors. Transfer students must meet Purdue's overall transfer criteria, as well as any major-specific requirements. Before you apply, check the closed programs page to confirm this major is open to transfer students. If it is, refer to the information below for major-specific transfer criteria.
Minimum GPA: 2.5
---
Contact Information
Agricultural Sciences Education and Communication
(765) 494-8433
ASEC@purdue.edu
College of Agriculture
---
Careers in Agricultural Communication
Advertising
Marketing communications
Reporting
Editing/writing
Graphic design
Public relations
Radio
Media production
Sales
Photography
---