Agricultural Communication
Purdue University in West Lafayette
Prepare for a career that serves industry and society by promoting awareness and understanding of food, agriculture, and science.
Our students are engaged in project-based learning, so they develop practical skills for challenges they will encounter in the profession. They develop marketing strategies, manage social media, create videos, organize events, write news and feature stories, and design marketing materials. Many students hone their skills through internships related to their interests with agricultural companies, nonprofit agricultural groups, insurance companies, FFA and government agencies like the Indiana State Department of Agriculture.
Agricultural Communication graduates have the advantage of excelling in communication, science, and agricultural courses — a combination future employers value.
Student Spotlight: Mel Hasler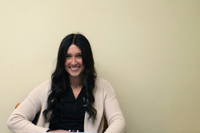 In her free time between classes, you can find Mel Hasler on the third floor of Purdue's Lilly Hall. The hallway is home to Purdue Agricultural Sciences Education and Communication, and Hasler goes there to hang out in the study space, joke with other students going to and from class, talk with professors and catch up on homework.
It's a place the agricultural communication major from Hope, Indiana, likes to go to connect with others in the program.
"I always manage to run into just the right person," Hasler said.
Being able to see those people is very important to Hasler because she is all about making connections — with her peers, with faculty, with AgCom professionals, and with other people in the agricultural industry. Agricultural communication has enabled Hasler to do just that.  
Hasler said connecting with supportive people is a big part of the AgCom experience. She said the size of the program plays a big role in that.
"Although people might see it as a weakness, we are an exceedingly small department," Hasler said. "I see it as a strength, because you make such strong connections and it's a supportive community who are looking out for your best interests."
Hasler has been able to pursue more interests this last year that have allowed her to create deeper connections. She became an officer in the Purdue's chapter of Agricultural Communicators of Tomorrow, a national student organization that connects AgCom students from programs around the country.
"
As agriculturalists, we need to work towards bridging the farm to plate communication gap, and I hope to be a part of the integral solution,
" Hasler said.
Plan of Study
Agricultural Communication Webpage
Transfer to Agricultural Communication
Purdue admits to individual majors. Transfer students must meet Purdue's overall transfer criteria, as well as any major-specific requirements. Before you apply, check the closed programs page to confirm this major is open to transfer students. If it is, refer to the information below for major-specific transfer criteria.
Minimum GPA: 2.5
---
Contact Information
Agricultural Sciences Education and Communication
(765) 494-8433
ASEC@purdue.edu
College of Agriculture
---
Careers in Agricultural Communication
Advertising
Marketing communications
Social Media
Editing/writing
Graphic design
Public relations
Management
Media production
Sales
Photography
---