Sustainable Food and Farming Systems
Purdue University in West Lafayette
Learn how to design and manage a small farm enterprise!
Study the principles of sustainable agriculture including non-chemical pest and soil management. Investigate organic, local, and urban agriculture systems and study the resilience of the American food system. Gain hands-on experience at the Purdue University student farm.
This is a comprehensive, science-based degree program that will prepare you to manage low-input farming enterprises and for a career in many other agricultural and environmental professional fields.
Purdue Agriculture Experience: Olivia Downey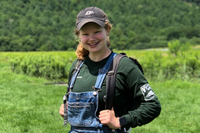 I decided to pursue Sustainable Food and Farming Systems (SFS) after an internship I had with a community garden in my hometown, South Bend, Indiana. It opened my eyes to the injustices in our food system and the problem of food deserts in urban and rural communities, among other issues.
The principles that went into designing my major are of the utmost importance for society moving forward. Our food system is under threat of climate change, and by majoring in SFS, I've been exposed to a wide variety of ways of approaching these issues. Also, there's more than one direction to take this degree. Some of my peers are wanting to grow their own produce, work for the USDA, or do development work like myself. 
I love many things about my major, but the two that stand out the most are the people and the classes. Specifically, I appreciate the assortment of classes that I took and the combination of practical, technical, and discussion classes. Overall, class size is relatively small, too. I really enjoyed getting to learn in the greenhouses my freshman year. It provided exposure to research zones and how experiments can be run. 
I graduated from Purdue in May 2022, and I will be pursuing a graduate degree in the field of international agricultural development at the University of Michigan this fall. The specific combination of classes I've taken and getting a minor in Environmental Politics and Policy has validated my passion for equitable food systems, especially in the face of climate change.
Plan of Study
Sustainable Food and Farming Systems Webpage
Transfer to Sustainable Food and Farming Systems
Purdue admits to individual majors. Transfer students must meet Purdue's overall transfer criteria, as well as any major-specific requirements. Before you apply, check the closed programs page to confirm this major is open to transfer students. If it is, refer to the information below for major-specific transfer criteria.
Minimum GPA: 2.5
---
Contact Information
Horticulture & Landscape Architecture
(765) 494-1302
hlacareers@purdue.edu
College of Agriculture
---
Careers in Sustainable Food and Farming Systems
You will be prepared to sustainably manage large or small farms, to work for industry as crop and pest management consultants, to influence policy and education through government organizations such as the Cooperative Extension Service and to work for non-profit organizations. You will also be prepared to enter graduate school programs in ecology, pest management, cropping systems, and many others.
---