Purdue University in West Lafayette
This major is designed for students who are interested in the biology of diverse plants and microbes.
Students will learn how plants and microbes grow, develop and evolve; the interactions of plants with other organisms and their role in the environment; and how to manage plants that are grown for food, fiber and fuel.
Student Testimonial: Maddy Schaider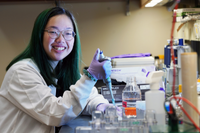 I chose to attend Purdue because of the College of Agriculture's reputation. I knew coming to Purdue would give me the experiences I needed to be successful after graduation. During my visit to Purdue, I was able to see all the research facilities and learned that all Plant Science students get the opportunity to be actively involved in research as undergraduates.   

I found my place at Purdue within my major. We have a small department, so we are in classes together and often study and work together as well. The professors in the department are extremely welcoming. I was able to work under different professors as I figured out what topic I wanted to research.
I had an internship at Corteva last summer working with the seed-applied technology group. I learned that I loved working in the industry and what kind of degree I need to qualify for my dream job. I received lots of advice that has helped me make important decisions, such as when and where I should attend graduate school. 

I think choosing a university where you feel at home and are excited to explore campus is important. I had this gut reaction during my visit to Purdue that it would be the perfect university for me.
Plan of Study
Plant Science Webpage
Transfer to Plant Science
Purdue admits to individual majors. Transfer students must meet Purdue's overall transfer criteria, as well as any major-specific requirements. Before you apply, check the closed programs page to confirm this major is open to transfer students. If it is, refer to the information below for major-specific transfer criteria.
Minimum GPA: 2.5
---
Contact Information
Botany and Plant Pathology
(765) 494-4615
plants@purdue.edu
College of Agriculture
---
Careers in Plant Science
This major is a good choice for a career with biotechnology and genetics companies, research-oriented companies and universities, crop consulting companies, or to continue your post-graduate education.
---