Horticulture (multiple concentrations)
Purdue University in West Lafayette
This broad major can prepare students for the business of horticulture with concentrations in Horticultural Production and Marketing or Landscape Horticulture and Design, or it can be focused on education and communication through Public Horticulture, or it can lead to a research and development career via the Plant Science concentration.
Horticulture applies knowledge from many disciplines, including biology, chemistry, ecology, engineering, communications, business, and education to solve real world problems related to the production, marketing and management of landscape plants, flowers, fruits and vegetables.
Concentrations include:
Horticultural Production and Marketing
Landscape Contracting and Management
Landscape Design
Landscape Enterprise Management
Plant Science
Public Horticulture
---
Student Testimonial: Leah Coughlin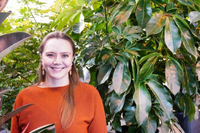 I wasn't sure exactly what I wanted to do right after I graduated from high school. I went to a community college and earned an associate degree. Still unsure, I started working at a hardware store. Plants and gardens have always been interesting to me, and I was fortunate to land a position managing the garden center, where I was mentored by an alumnus of Purdue's horticulture department. His passion and interest in plants helped me learn about opportunities in horticulture at Purdue.
During my time at Purdue, I spent a summer and part of a semester working at the Jules Janick Horticulture Garden on campus. I built a network of faculty and students who have helped me know that I chose the right path and who have answered my questions about horticulture internships and topics. 
One of my professors, Dr. Li, hired me as an undergraduate researcher in her lab, where I've learned about basic lab procedures such as DNA extraction, PCR, and chlorophyll analysis.   
I completed an internship in Indianapolis this summer as well as a month-long study abroad course in England.    
My advice as you consider Purdue would be to remember that it all comes down to what you make of it. Purdue is a great school with numerous resources that can help you accomplish your goals.
Plan of Study
Horticulture (multiple concentrations) Webpage
Transfer to Horticulture (multiple concentrations)
Purdue admits to individual majors. Transfer students must meet Purdue's overall transfer criteria, as well as any major-specific requirements. Before you apply, check the closed programs page to confirm this major is open to transfer students. If it is, refer to the information below for major-specific transfer criteria.
Minimum GPA: 2.5
---
Contact Information
Horticulture & Landscape Architecture
(765) 494-1302
hlacareers@purdue.edu
College of Agriculture
---
Careers in Horticulture (multiple concentrations)
Fruit, vegetable, or ornamental plant grower
Landscape contractor
Plant breeder
Plant propagator
Equipment and supply sales
Extension educator
University professor
Research scientist
Graduate school
---