Agribusiness (multiple concentrations)
Increasing opportunities exist for agricultural graduates to enter managerial positions in business. These businesses may be large or small and may be organized as proprietorships, partnerships, corporations, or cooperatives. They include meat, dairy, and poultry processing industries, grain handling, feed manufacturing, and seed and fertilizer firms; transportation and storage concerns; and wholesale and retail food businesses.
Although this Department of Agricultural Economics curriculum gives special emphasis to agriculturally related businesses, its requirements are broad enough to allow adequate preparation for nonagricultural businesses. This option also has enough flexibility to permit you to prepare for an international career in agricultural business and can serve as a foundation for graduate school.
Concentrations include:
Agribusiness Management
Agrifinance
Agrimarketing
Commodity Marketing
Food Marketing
---
Purdue Agriculture Experience: Derek Berkshire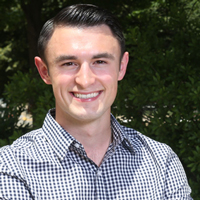 Family and agriculture intertwined in Derek's life. He milked cows at his grandparents' dairy farm and showed livestock in 4-H. Despite a family lineage filled with Purdue Agriculture alumni, Derek was headed in another direction. Or so he thought. "In high school, I wanted to be surgeon," Derek says. But as his FFA involvement grew, so did his interest in his agricultural roots. "Doing something ag-related was expected in my family," he admits, "But it turns out it was what I wanted, too. My passion for ag was larger than I let on." He considered other schools, but in the end, applied only to Purdue. "It's family tradition. I feel the stars aligned to bring me here. Purdue Ag is a great place to be."
My Purdue Path
Detour and Transition
Derek postponed his first year at Purdue after election to FFA state office, then made up for lost time. "I was away from academics for a year. When I finally arrived at Purdue, my friends were a year ahead and living a different life. The first year was a bit of a tough transition. I tried out different organizations and aligned myself with those I'm most passionate about. Everyone comes in with an idea of what college is supposed to be. My advice is—there is no right or wrong way. I certainly didn't take the traditional route. Seek out what you want to study and the activities that make you happy. Don't be afraid to push yourself into new scenarios. Wherever the adventure takes you is OK."
Make the Most of Mentors
"Finding a faculty mentor is one of the best things you can do. You can talk things through with them. They are so willing to support you and set you up for success. Just go ask. I've gained so much more from my college experience by having a mentor. Purdue has many amazing opportunities to connect with industry professionals, notable alumni, and prominent guest speakers. Your mentor sends you invitations to these events and helps you make personal connections. It's an introduction to the real world that making navigate this period of life where you are deciding what to do after graduation easier." Derek still turns to his faculty mentor when he needs to bounce ideas off someone. Mentors, he says, do everything they can to help you succeed.
Internships: Explore Career Paths
"I was eager to try for an internship after freshman year and looked at ones where the communication skills I learned in FFA would give me an advantage. I accepted a position with Tyson Foods as a corporate identity intern. The following year I pursued a more agribusiness-focused experience with Cargill Feed and Nutrition's pricing and formulation team. I got both internships through the College of Agriculture Career Fair, which is amazing in size and scope. It's not just for graduating students, but also for freshmen, sophomores, and juniors to explore career paths, apply for internships, and network with employers. It's one of the many ways Purdue makes sure you are job-ready."
Purdue—Respected Across the Pond
"I knew I wanted to study abroad from day one. Fortunately, I talked with my advisors early on, so we knew how to make it happen. I chose a semester program at the University of Bath in England. I travelled all over Europe and met students from many other countries who will be my friends for life. Purdue has an amazing reputation abroad. I had classes that specifically referenced the university as the leading resource in certain areas. People around the world respect Purdue. And I get to call it home."
Plan of Study
Agribusiness (multiple concentrations) Webpage
Transfer to Agribusiness (multiple concentrations)
Purdue admits to individual majors. Transfer students must meet Purdue's overall transfer criteria, as well as any major-specific requirements. Before you apply, check the closed programs page to confirm this major is open to transfer students. If it is, refer to the information below for major-specific transfer criteria.
Minimum GPA: 2.5
---
Contact Information
Agricultural Economics
(765) 494-4201
agec1@purdue.edu
College of Agriculture
---
Careers in Agribusiness (multiple concentrations)
Agricultural Chemical Sales Representative
Agricultural Seed Sales Representative
Agricultural Supply Management
Animal Pharmaceuticals Sales Representative
Commodity Merchandising
Consumer Brand Management
Corporate Management Trainee
Customer Service Representative
District Grocery Store Management
Elevator Management
Financial Planning Representative
Food Manufacturing Sales Representative
Healthcare Pharmaceuticals Sales Representative
Investment Representative
Law School
Loan Officer
Production Management
Professional Farm Management
---