Agribusiness (multiple concentrations)
Purdue University in West Lafayette
Increasing opportunities exist for agricultural graduates to enter managerial positions in business. These businesses may be large or small and may be organized as proprietorships, partnerships, corporations, or cooperatives. They include meat, dairy, and poultry processing industries, grain handling, feed manufacturing, and seed and fertilizer firms; transportation and storage concerns; and wholesale and retail food businesses.
Although this Department of Agricultural Economics curriculum gives special emphasis to agriculturally related businesses, its requirements are broad enough to allow adequate preparation for nonagricultural businesses. This option also has enough flexibility to permit you to prepare for an international career in agricultural business and can serve as a foundation for graduate school.
Concentrations include:
Agribusiness Management
Agrifinance
Agrimarketing
Commodity Marketing
Food Marketing
---
Student Spotlight: Chaela Minor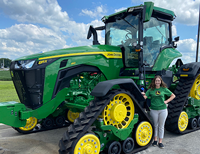 Fostered engagement, learning and networking around the country (and world) 
Hometown: Reelsville, Indiana
High school: Clay City Jr/Sr High School
Major & Concentration: Agribusiness Management & Agricultural Systems Management
Why did you to Purdue: I originally wanted to be different, and was planning to go to another university out of state. However, I got an in-state scholarship that brought me to Purdue; looking back, I know God knew what he was doing – I could not imagine being anywhere else but Purdue! The world-class education paired with the opportunities really helps to foster an environment of success for every student. 
Favorite Purdue tradition:  Fountain Runs! 
Top three influences at Purdue: 
Studying abroad in Peru
Apartment 8 come
Involvement in student organizations
Five words to describe Purdue: 
Transformational
Innovative
Prestigious
Challenging
Empowering
Something you wish you would have done at Purdue: Gotten involved in student organizations that weren't directly tied to the College of Ag.
Places you have been as a Purdue student: 
Study Abroad – Peru
Internships – Monsanto Company (Constantine, Michigan) and John Deere (Urbandale, Iowa and Waterloo, Iowa)
Student Orgs – AFA (Kansas City, MO, Raleigh, NC, San Antonio, TX, Anaheim, CA, San Francisco, CA, Minneapolis, MN); Sigma Alpha (St. Louis, MO)
Have to redo college in a major not in Ag: Marketing or Finance 
Favorite club/organization: Mortar Board
Favorite Student-led event/initiative: Ag Week
Favorite Purdue event: Grand Prix
Favorite place to study: Ag Administration Building
Over your career where were you most likely to be found on campus: Lilly or Krannert
Favorite spot on campus: Ross Ade
Favorite thing about CoA: The education is top notch, and the faculty and students are very friendly. I also always brushed off the "it's a family" idea, but the longer I am involved, the more obvious this becomes. Everyone in the CoA – faculty, staff, students – is very welcoming and a part of one large community.
Plan of Study
Agribusiness (multiple concentrations) Webpage
Transfer to Agribusiness (multiple concentrations)
Purdue admits to individual majors. Transfer students must meet Purdue's overall transfer criteria, as well as any major-specific requirements. Before you apply, check the closed programs page to confirm this major is open to transfer students. If it is, refer to the information below for major-specific transfer criteria.
Minimum GPA: 2.5
---
Contact Information
Agricultural Economics
(765) 494-4201
agec1@purdue.edu
College of Agriculture
---
Careers in Agribusiness (multiple concentrations)
Agricultural Chemical Sales Representative
Agricultural Seed Sales Representative
Agricultural Supply Management
Animal Pharmaceuticals Sales Representative
Commodity Merchandising
Consumer Brand Management
Corporate Management Trainee
Customer Service Representative
District Grocery Store Management
Elevator Management
Financial Planning Representative
Food Manufacturing Sales Representative
Healthcare Pharmaceuticals Sales Representative
Investment Representative
Law School
Loan Officer
Production Management
Professional Farm Management
---