Purdue University in Indianapolis, Purdue University in West Lafayette
The demand for professionals with cybersecurity skills is high, and it will continue to grow as more companies and industries work to safeguard their records and their reputations. The cybersecurity plan of study help meet this need by providing a comprehensive IT education that also emphasizes key security concepts. The major's holistic approach combines skills such as secure coding, cryptography, digital forensics and UNIX fundamentals with analytical thinking and criminology.
The Purdue Polytechnic Institute is one of 10 academic colleges at Purdue University. The Polytechnic specializes in team-based labs where you'll test ideas, take things apart and put them back together — only better. You'll learn side-by-side with professors who have worked in the industry and thrive on combining theory, imagination and real-world application. In this innovative environment, you'll learn by doing - gaining deep technical knowledge and applied skills in your chosen discipline coupled with problem-solving, critical-thinking, communication and leadership skills employers desire.
Purdue's CyberSleuth: Kathryn Seigfried-Spellar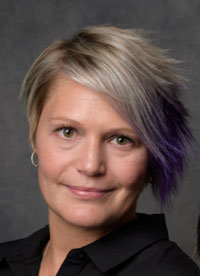 Kathryn Seigfried-Spellar fights crime using cyberforensics, a branch of digital forensic science pertaining to evidence found in computers and digital storage media.
Seigfried-Spellar, associate professor of computer and information technology, has become a national leader in the field. She helped to create a free, downloadable toolkit for law enforcement agencies to help them collect digital evidence. She's made opportunities for student researchers to fight human trafficking in the Americas. She's helped investigators who examined disturbing footage from crime scenes or images of crimes against children to deal with post-traumatic stress. And she has also developed a week-long summer camp for girls to inspire them to consider careers in computer programming or cybersecurity.
Plan of Study
Cybersecurity
Cybersecurity Webpage
Transfer to Cybersecurity
Purdue admits to individual majors. Transfer students must meet Purdue's overall transfer criteria, as well as any major-specific requirements. Before you apply, check the closed programs page to confirm this major is open to transfer students. If it is, refer to the information below for major-specific transfer criteria.
Minimum GPA: 3.0
---
Contact Information
Computer and Information Technology Advisors
(765) 496-6003
CIT-Advising@purdue.edu
Purdue Polytechnic Institute
---
Careers in Cybersecurity
Computer Security Incident Responder
Digital Forensic Analyst
IT Security Administrator
Security Analyst or Architect
Source Code Auditor
Vulnerability Assessor
---