Organizational Leadership
Purdue University in Indianapolis, Purdue University in West Lafayette
Graduates who can combine their knowledge of technology with their business leadership skills are in high demand in industries that range from manufacturing to government and nonprofit organizations. Students study team management, product innovation and policy development. Concentrations of the organizational leadership major include project management, business intelligence, and organizational design and transformation.
The broad curricula will prepare you to lead in a variety of scenarios, from innovative technology organizations to global teams and organizational change. You will also take courses to understand how policies and law affect technology innovation and influence global technology and organizational leadership.
The Purdue Polytechnic Institute is one of 10 academic colleges at Purdue University. The Polytechnic specializes in team-based labs where you'll test ideas, take things apart and put them back together — only better. You'll learn side-by-side with professors who have worked in the industry and thrive on combining theory, imagination and real-world application. In this innovative environment, you'll learn by doing - gaining deep technical knowledge and applied skills in your chosen discipline coupled with problem-solving, critical-thinking, communication and leadership skills employers desire.
Organizational Leadership Grad Fashions Clothing Design Hobby Into Apparel Company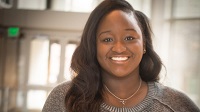 When an automobile accident sidelined a Purdue graduate for a few months in 2018, Danielle Render (BS organizational leadership '17, BS multidisciplinary engineering '17) transformed her "side hustle" into a full-time gig.
After double-majoring in organizational leadership and multidisciplinary education, Render accepted a position as a consulting analyst with Accenture's consulting development program in Atlanta, Georgia. During her free time, she restarted the fashion design hobby that she'd originally picked up in high school. Divine Creations Clothing Co., an original apparel company now known as DVN Co., was born.
Unable to travel for projects for Accenture while recovering from her accident, DVN became Render's full-time effort.
"The truth is, I thought that I was going to be a successful consultant," Render said. "And so again, this was something that was just a side hobby while I was at Accenture."
DVN cracked six figures in sales by the end of 2018 and more than a half-million dollars by the end of 2019.
"I used to stress myself out about who saw my light and if I was doing things right," said Render. "Now I don't focus on who sees it. I focus on doing what I'm supposed to do so that I can make a positive impact, and I feel like this is my calling."
See the full story by Jonita (Holley) Davis at the Purdue Alumnus.
DVN Co. focuses on creating original apparel. (Image provided.)
Additional information
Plan of Study
Organizational Leadership
Organizational Leadership Webpage
Transfer to Organizational Leadership
Purdue admits to individual majors. Transfer students must meet Purdue's overall transfer criteria, as well as any major-specific requirements. Before you apply, check the closed programs page to confirm this major is open to transfer students. If it is, refer to the information below for major-specific transfer criteria.
Minimum GPA: 2.5
---
Contact Information
​Cassie Pendleton
(765) 494-0452
rice11@purdue.edu
Purdue Polytechnic Institute
---
Careers in Organizational Leadership
Organizational management
Human Resource management
Operations management
Product development
---