Mechanical Engineering Technology
Purdue University in Indianapolis, Purdue University in West Lafayette
The mechanical engineering technology program concentrates on the workforce, methods, supplies and equipment necessary to safely and efficiently operate today's high-tech manufacturing facilities. You'll use your problem-solving abilities and leadership skills to manage staff, machinery, materials and resources that maximize production. Courses emphasize teamwork, sustainable energy usage, advanced material processes and product realization.
Graduates of this program are prepared for careers in emerging fields such as energy, material, technology development, product improvement, industrial processes, and operations.
Students in this program can apply to participate in a five-year combined bachelor's/master's degree program in mechanical engineering technology.
The Purdue Polytechnic Institute is one of 10 academic colleges at Purdue University. The Polytechnic specializes in team-based labs where you'll test ideas, take things apart and put them back together — only better. You'll learn side-by-side with professors who have worked in the industry and thrive on combining theory, imagination and real-world application. In this innovative environment, you'll learn by doing - gaining deep technical knowledge and applied skills in your chosen discipline coupled with problem-solving, critical-thinking, communication and leadership skills employers desire.
Techies Today: Nadeem Ali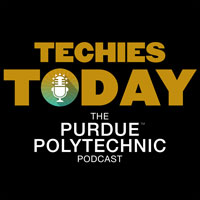 Nadeem Ali, a student majoring in Purdue Polytechnic's mechanical engineering technology program, talked with us a few months before graduating about the importance of going on an internship during college, which will help "diversify your experience outside of your book-smarts" and make students especially attractive to future employers. We learn about Nadeem's internships at John Deere, Fiat Chrysler and Tesla and the advice he offers to high school students.
Plan of Study
Mechanical Engineering Technology
Mechanical Engineering Technology Webpage
Transfer to Mechanical Engineering Technology
Purdue admits to individual majors. Transfer students must meet Purdue's overall transfer criteria, as well as any major-specific requirements. Before you apply, check the closed programs page to confirm this major is open to transfer students. If it is, refer to the information below for major-specific transfer criteria.
Minimum GPA: 3.0
---
Contact Information
Tami Lynch
(765) 494-8590
tlynch@purdue.edu
Purdue Polytechnic Institute
---
Careers in Mechanical Engineering Technology
Mechanical engineer
Production engineer
Project engineer
---