Automation and Systems Integration Engineering Technology
Purdue University in West Lafayette
Discover what manufacturing advancements are possible when mechanical and electrical technologies are combined with computing and automation in an industrial environment. Experience a fully functional, hands-on manufacturing environment inside a real-world, 1,400-square-foot, automated industrial manufacturing facility. Learn how to move product ideas into more efficient, automated manufacturing systems.
The Purdue Polytechnic Institute is one of 10 academic colleges at Purdue University. The Polytechnic specializes in team-based labs where you'll test ideas, take things apart and put them back together — only better. You'll learn side-by-side with professors who have worked in the industry and thrive on combining theory, imagination and real-world application. In this innovative environment, you'll learn by doing - gaining deep technical knowledge and applied skills in your chosen discipline coupled with problem-solving, critical-thinking, communication and leadership skills employers desire.
Gateway to Innovation: $140M complex to provide major expansion of instructional space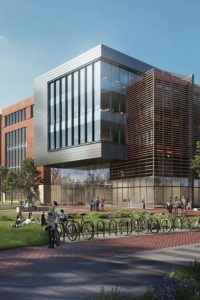 In mid-2019, the Purdue University Board of Trustees approved a major construction project for Purdue's Polytechnic Institute and College of Engineering.
The "Engineering and Polytechnic Gateway" project will provide a total of 255,000 gross square feet, primarily for instructional laboratories, faculty offices, design studios and collaborative spaces. Consisting of two connected buildings, the complex will increase both the quality and quantity of instructional lab space, provide more dedicated space for active learning and lab-centric instructional methods, and bring together labs that are currently geographically separated.
"These are going to be flagship facilities," said Gary Bertoline, dean of Purdue Polytechnic. "We believe the innovative project represents a leading design for teaching, learning, research and engagement for universities in the future."
The modern, five-story project will have a total cost of $140 million, funded by $60 million from the state of Indiana, a $40 million grant from Lilly Endowment Inc., and another $40 million from the two colleges and their donors. Replacing the current single-story Nuclear Engineering Building and Michael Golden Labs facilities and wrapping around the west and south sides of Knoy Hall of Technology, the complex will serve as a new gateway to the academic campus. It will also provide an eastern terminus to Purdue's Student Success Corridor, which spans Third Street from Horticulture Park to Grant Street.
New laboratories for Purdue Polytechnic's School of Construction Management Technology, School of Engineering Technology, Department of Computer and Information Technology and Department of Computer Graphics Technology, plus faculty offices, will be located in the complex.
Transformation served as catalyst to new facilities, renewed collaboration
Mitch Daniels, president of Purdue University, praised Purdue Polytechnic's college-wide adoption of a transformed approach to education. 
"The modernization of the Polytechnic Institute was, to me, superb," Daniels said. "No one should overlook or underestimate what an incredibly difficult thing that was."
The college's transformation that began in 2013 also served as a catalyst to the formation of the Gateway Complex project, Daniels said.
Clay Robbins, chairman, president and CEO of Lilly Endowment, noted that the organization's $40 million grant to help realize the new complex represents the next phase of ongoing support.
"Purdue has achieved significant impact through earlier grants to launch Discovery Park and enhance the College of Engineering and the Polytechnic Institute," said Robbins. "The intellectual and entrepreneurial energy on campus is magnetic. We are pleased to help build on this momentum."
Bertoline said that the College of Engineering and the Polytechnic have been working together more closely than ever before.
"I can't overstate how important the collaboration between our two great colleges is," he said. "That actually is a unique attribute of Purdue University. By having these two colleges at a major research institution, it brings all kinds of advantages for both programs. Engineering students get exposure working with technologists and vice versa, and the same thing goes for faculty and research."
The complex will feature the Hoosier Hot Corner, a physical "front door" to connect Indiana companies as they collaborate with faculty, hire students and interns and identify future graduates for full-time positions.
"We are going to prepare graduates, especially in the manufacturing area, better than anyone in the nation, if not the world," said Bertoline.
Site preparation began in fall 2019 with construction of a new service drive north of Knoy Hall. Demolition of existing buildings and construction of the new project will follow. The complex is expected to open for instructional use in January 2023.
Plan of Study
Automation and Systems Integration Engineering Technology Webpage
Transfer to Automation and Systems Integration Engineering Technology
Purdue admits to individual majors. Transfer students must meet Purdue's overall transfer criteria, as well as any major-specific requirements. Before you apply, check the closed programs page to confirm this major is open to transfer students. If it is, refer to the information below for major-specific transfer criteria.
Minimum GPA: 2.5
---
Contact Information
Tami Lynch
(765) 494-8590
tlynch@purdue.edu
Purdue Polytechnic Institute
---
Careers in Automation and Systems Integration Engineering Technology
Process engineer
Manufacturing engineer
Quality engineer
Design engineer
---