Computer Engineering Technology
Purdue University in Indianapolis, Purdue University in West Lafayette
The most-used computers in the world are the ever-present microcomputer systems embedded in everything electronic, including smart homes, vehicles, manufacturing equipment and medical devices. Learn how these smart microcomputers incorporate data from their surrounding environments to control their systems.
The Purdue Polytechnic Institute is one of 10 academic colleges at Purdue University. The Polytechnic specializes in team-based labs where you'll test ideas, take things apart and put them back together — only better. You'll learn side-by-side with professors who have worked in the industry and thrive on combining theory, imagination and real-world application. In this innovative environment, you'll learn by doing - gaining deep technical knowledge and applied skills in your chosen discipline coupled with problem-solving, critical-thinking, communication and leadership skills employers desire.
Polytechnic grads' in-home greenhouse receives NSF funding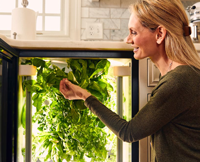 Purdue Polytechnic graduates Ivan Ball (BS electrical and computer engineering technology '17) and Scott Massey (BS mechanical engineering technology '17) founded Heliponix (formerly Hydro Grow) in a campus apartment during their senior year. Their start-up produces the GroPod Smart Garden Appliance, an aeroponic mini-greenhouse that can be installed below a kitchen counter. Because the GroPod is only about the size of a dishwasher, it enables anyone – even yard-free apartment dwellers – to grow lettuce and other greens year 'round, without soil or pesticides.
Recently, Ball and Massey received the Small Business Innovation Research (SBIR) grant, worth $256,000, from the National Science Foundation, to advance their GroPod in-home greenhouse technology. Once a business gains a Phase I SBIR grant up to $256,000, it becomes eligible to apply for a Phase II grant of up to $1,000,000.
Read the full Purdue Research Foundation story by Chris Adam.
Plan of Study
Computer Engineering Technology Webpage
Transfer to Computer Engineering Technology
Purdue admits to individual majors. Transfer students must meet Purdue's overall transfer criteria, as well as any major-specific requirements. Before you apply, check the closed programs page to confirm this major is open to transfer students. If it is, refer to the information below for major-specific transfer criteria.
Minimum GPA: 2.5
---
Contact Information
Lindsay Haugland
(765) 494-9039
lhauglan@purdue.edu
Purdue Polytechnic Institute
---
Careers in Computer Engineering Technology
Test Engineer
Application Engineer
Systems Engineer
Project Engineer
---