Animation and Visual Effects
Purdue University in Indianapolis, Purdue University in West Lafayette
Computer animation is used in gaming, advertising, television and movies, human resources training, medical and health care, education, and building and infrastructure construction, with new applications being developed each day. Students majoring in animation and visual effects study rendering, 3D modeling, lighting, motion, character rigging and texturing. You'll create animated graphics and effects using Autodesk Maya, the same software used in TV, film and video games.
Alumni work primarily in the animated film and video game industries.
The Purdue Polytechnic Institute is one of 10 academic colleges at Purdue University. The Polytechnic specializes in team-based labs where you'll test ideas, take things apart and put them back together — only better. You'll learn side-by-side with professors who have worked in the industry and thrive on combining theory, imagination and real-world application. In this innovative environment, you'll learn by doing - gaining deep technical knowledge and applied skills in your chosen discipline coupled with problem-solving, critical-thinking, communication and leadership skills employers desire.
Custom technology by Polytechnic alum transforms Peter Jackson's WWI film to full color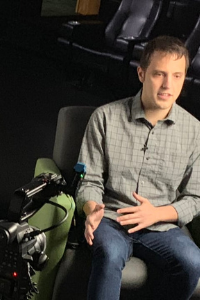 When "The Lord of the Rings" director Peter Jackson needed to restore and colorize black-and-white World War I footage for a new documentary, he contacted Stereo D, a film production services company in Burbank, Calif. Andrew Kennedy, technical director at Stereo D and a graduate of Purdue Polytechnic's computer graphics technology program (BS '12, MS '14), was assigned to the project.
The company has tools for restoration and for converting 2D films to 3D, but they didn't have a tool well-suited to colorizing 100-year-old footage for "They Shall Not Grow Old," Jackson's new World War I film.
"As a technical director here, my role is to be a problem solver," said Kennedy. "I'm sort of a half-artist, half-programmer."
Working closely with Stereo D's in-house producer, visual effects lead, and lead restoration artist, Kennedy developed custom software that allowed artists to specify colorization data in a few clips and then intelligently apply that data to subsequent clips. His software, dubbed the Palette Tool, helped automate the process of colorizing the footage.
"Essentially, I created a workflow that allowed our artists to take a palette, save information about the different uniforms, environments and characters in the movie, and then automatically replicate that color data to shots throughout the film," Kennedy said. "This innovation allowed them to spend more time working on fine details that really enhanced the imagery."
Stereo D's approach to colorizing the film had never been done before, said Kennedy. "It was a novel approach, and we didn't set out to create this specific tool or workflow. The pie-in-the-sky idea was to create a tool that gave us a way to maintain a consistency of color treatment across shots."
Although the custom software started as a small, "what if" idea, it became "a massive tool that we used on every single shot in the movie," Kennedy said. But his software development work didn't stop when the first version of the Palette Tool became part of their workflow.
"It had been proven in a research and development context," he said, "and then I spent the next year talking with the artists, updating the tool to meet their growing needs, and fixing little bugs that popped up. By the end of the project, we ended up with a very robust tool."
Kennedy credits Purdue for helping him build the problem-solving skills he uses at Stereo D.
"The heart of what I learned at Purdue in the computer graphics program was an interdisciplinary skill set, with technical and artistic knowledge, that enabled me to solve unique problems," he said. "I could never have gotten to where I am now without Purdue's support."
Kennedy's other 2018 film credits include "Ready Player One," "Avengers: Infinity War," "Solo: A Star Wars Story" and "Jurassic World: Fallen Kingdom." He is currently working on the 2019 film "Alita: Battle Angel."
"Coming from a small town in Indiana, I never pictured I'd be able to move to Los Angeles and work on big-name movies," said Kennedy. "It has certainly been a giant leap for me."
Plan of Study
Animation and Visual Effects Webpage
Transfer to Animation and Visual Effects
Purdue admits to individual majors. Transfer students must meet Purdue's overall transfer criteria, as well as any major-specific requirements. Before you apply, check the closed programs page to confirm this major is open to transfer students. If it is, refer to the information below for major-specific transfer criteria.
Minimum GPA: 3.0
---
Contact Information
T.R. Oneal
(765) 494-7505
troneal@purdue.edu
Purdue Polytechnic Institute
---
Careers in Animation and Visual Effects
3-D modeler
Technical director
Texture artist
Pre-production artist
Character designer
---