Audio Engineering Technology
Purdue University in West Lafayette
Learn how audio technology hardware works when you design, build and test a range of technologies, such as mixers, microphone amplifiers, power amps and other signal processors, loudspeakers and short-wavelength radio frequency channel methods, like Bluetooth. Combine these mechanical and electrical audio elements to record, play and amplify sound in public performance spaces.
The Purdue Polytechnic Institute is one of 10 academic colleges at Purdue University. The Polytechnic specializes in team-based labs where you'll test ideas, take things apart and put them back together — only better. You'll learn side-by-side with professors who have worked in the industry and thrive on combining theory, imagination and real-world application. In this innovative environment, you'll learn by doing - gaining deep technical knowledge and applied skills in your chosen discipline coupled with problem-solving, critical-thinking, communication and leadership skills employers desire.
Engineering Technology team's printed circuit board design improves electric guitars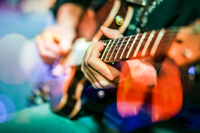 What makes a guitar electric? With a skilled person playing, any performance can be powerful — but for the moment, consider the mechanical aspects of the instrument itself.
Traditional electric guitars have a "pickup," a magnetic transducer made with miles of copper wire coiled around magnets via a tedious, time-consuming process.
Purdue Polytechnic's Davin Huston and Mark French, along with Kathryn Smith, a former graduate student in Huston's lab, have been studying ways to improve the process, making the finished products better for both players and manufacturers. They created a flexible, printed circuit board that imitates the conventional copper wire configurations inside electric guitars.
"We came up with a new approach to the electric guitar pickup, the magnetic transducer that helps create the musical sound," said Davin Huston, assistant professor of practice in engineering technology. "Our circuit boards can be printed in large quantities and fit inside just about any electric guitar, which simplifies the manufacturing process but keeps the sound quality and reliability."
With a conventional electric guitar pickup, string vibrations cause the electromagnetic field to oscillate, induce a voltage in the coil, and generate an electric signal. The team's circuit board works the same way.
"With typical pickups, the wire coils often produce undesired feedback and need to be potted with wax or a polymer," said French, professor of mechanical engineering technology. "Our circuit board provides an alternative that is easier to produce with manufactured consistency."
Davin, French and Smith worked with the Purdue Research Foundation Office of Technology Commercialization to patent the technology. A U.S. patent has been granted for their innovation.
See the full Purdue Research Foundation story by Chris Adam.
Plan of Study
Audio Engineering Technology Webpage
Transfer to Audio Engineering Technology
Purdue admits to individual majors. Transfer students must meet Purdue's overall transfer criteria, as well as any major-specific requirements. Before you apply, check the closed programs page to confirm this major is open to transfer students. If it is, refer to the information below for major-specific transfer criteria.
Minimum GPA: 2.5
---
Contact Information
Lindsay Haugland
(765) 494-9039
lhauglan@purdue.edu
Purdue Polytechnic Institute
---
Careers in Audio Engineering Technology
Audio systems engineer
Automotive entertainment designer
Imagineer
Test engineer
Audio system consulting and sales
---