Purdue University in West Lafayette
Purdue's English Department offers students individualized attention and access to excellent teachers and experts who shape how people think about literature, linguistics, and writing. A degree in English imparts the skills needed to succeed in any career students choose, and provides the versatility characteristic of a liberal arts education.
While pursuing a BA in English, students may select from two distinct concentrations: Literature and English Language in a Global Context.
The Literature student is a reader. In this track, students read authors who have shaped the English-speaking globe and practice the skills necessary to negotiate a complex world.
The English Language in a Global Context student is an internationalist. In this track, students learn about the history and the varieties of English around the world, and the teaching of English as a second language.
In both, our students have access to unique English department learning communities, internships, scholarships, study abroad opportunities and more, providing them with the foundations for collegiate success, and beyond.
All liberal arts majors prepare students with the skills identified as contributing to executive success and leadership:  communicating and listening well, possessing insights into others, creative/critical thinking, problem solving, and the ability to make connections across complex ideas.
Degree in 3
Motivated, driven students can complete this major in three years.
Degree in 3
allows students to enter the work force or graduate school a year earlier while also providing a cost-effective way to complete an undergraduate degree. Degree in 3 offers a great combination of cost-savings and the opportunity to accelerate your future and achieve your goals.
Dr. Derek Pachoeco: College of Liberal Arts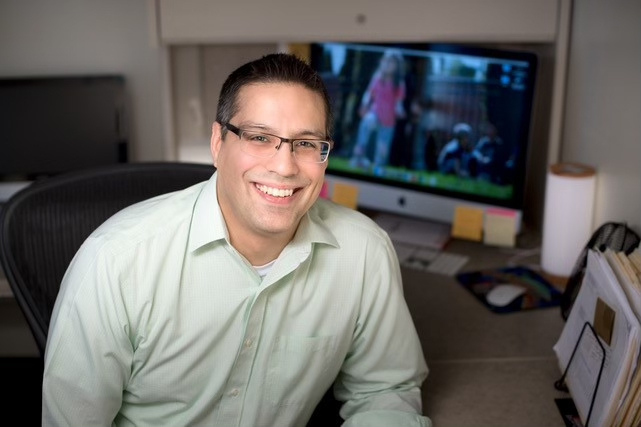 Derek Pacheco (Ph.D. at UCLA, 2006) is Associate Professor of English at Purdue. His research and teaching interests include: nineteenth-century literature; children's & young adult literature; print culture and book history; race, class, and gender in nineteenth-century literature.

Prof. Pacheco teaches a wide range of undergraduate and graduate literature courses. Recent classes taught include Ways of Reading; Young Adult Literature; Literature for Children; American Literature to 1865; Beyond English (career capstone); Antebellum American Literature; Later Nineteenth-Century American Literature; Teaching Literature at the College Level; and Scholarly Writing & Publishing.

Accolades include the English Department's "Excellence in Undergraduate Teaching Award" for 2011-20 and "Excellence in Graduate Teaching Awards" for 2013-2017. He also received the English department's "Overall Excellence in Undergraduate Teaching Award" for 2013, the College of Liberal Arts' "Outstanding Undergraduate Teacher Award" for 2015, the Kenneth T. Kofmehl Award, the College of Liberal Arts' highest honor for undergraduate instruction, in 2016; and the Charles B. Murphy Undergraduate Teaching Award, Purdue's highest undergraduate teaching honor, in 2019.
Prof. Pacheco is also the Sandra K. Biggs and Harriet M. Crews Director of The Big Read in the Department of English. The Big Read enriches the Greater Lafayette community through reading and discussion of timely, relevant works of literature. Since 2017, it has distributed over 6,500 books to residents, high school students, and undergraduates. As part of its annual program, it has also sponsored over 50 community events or activities.
Publications:
"'Funny Queer Fits': Masculinity and Desire in J.R.R. Tolkien's The Hobbit." Children's Literature Quarterly, fall 2021, volume 46, number 3, pp. 263-282.
"Hawthorne and the American Revolution." Hawthorne in Context, edited by Monika Elbert, Cambridge University Press, 2018, pp. 35-45.
"Engendering Fantasy in Romantic Children's Fiction." Romantic Education in Nineteenth-Century American Literature, edited by Monika Elbert and Lesley Ginsberg, Routledge, 2015, pp. 211-228. 
Moral Enterprise: Literature and Education in Antebellum America. The Ohio State University Press, 2013. Paperback reissue – July 2017.
"'Dwarves and Hobgoblins': Hawthorne, Gothic Children's Literature, and A Wonder Book for Girls and Boys," Nathaniel Hawthorne Review, volume 38, number 2, fall 2012, pp. 47-71.
"'Vanished Scenes…Pictured in the Air': Hawthorne, Indian Removal, and The Whole History of Grandfather's Chair," Nathaniel Hawthorne Review, volume 36, number 1, spring 2010, pp. 186-211.
"'Disorders of the Circulating Medium': Hawthorne's Early Children's Literature," ESQ: A Journal of the American Renaissance, volume 53, number 3, fall 2007, pp. 282-319.
Special Issue of Journal Edited:
Demson, Michael and Derek Pacheco, eds. Transatlanticism and The Blithedale Romance. Nathaniel Hawthorne Review, volume 42, number 1, spring 2017. 
Plan of Study
English: Global Context Concentration, BA
English: English Literature Concentration, BA
English Webpage
Transfer to English
Purdue admits to individual majors. Transfer students must meet Purdue's overall transfer criteria, as well as any major-specific requirements. Before you apply, check the closed programs page to confirm this major is open to transfer students. If it is, refer to the information below for major-specific transfer criteria.
Minimum GPA: 2.5
---
Contact Information
Undergraduate Student Recruitment Office
(765) 494-6291
newstudent@purdue.edu
College of Liberal Arts
---
Careers in English
Editor
Attorney
Journalist
Publishing
Grant Writer
Creative Writing
Technical Writing
Advertising
Public Relations
---