The major in African American Studies provides focus on the experience of African Americans and their connections to the African Diaspora in the Caribbean and Latin America. 
Coursework addresses such topics as cultural practices, with reference to literature, history, and film, as well as inequality as it relates to issues of nationality, race, class, and gender. African American Studies provides students with a solid theoretical and research basis to pursue either employment in business and industry or pursue graduate studies. With the African American Studies program, study abroad provides students global engagement that benefits them upon graduation.
All liberal arts majors prepare students with the skills identified as contributing to managerial success:  communicating and listening well, possessing insights into others, creative/critical thinking, problem solving, and the ability to make connections across complex ideas.
CLA Faculty Spotlight: Marlo David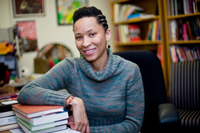 Marlo D. David is the current Director of African American Studies and Research Center at Purdue University. She received her PhD in English from the University of Florida in 2009. Her research has focused on contemporary African-American cultural studies as well as feminist gender and sexuality studies. Marlo's interdisciplinary research traces the ways black writers, artists, and performers respond to inter- and intra-racial representations of blackness and contemporary American politics in the post-Civil Rights era. Her work offers ways of interpreting African-American literature, performance, and popular culture that emphasize the multiplicities of black identities and challenge stereotypes that stigmatize black people, particularly black women and girls.
Marlo's current book project, Mama's Gun: Black Maternal Figures and the Politics of Transgression, examines the ways African-American writers and performers use methods of vernacular signification to modify controlling images about black mothers in contemporary American culture.
Marlo teaches courses on black women writers, motherhood in American literature, black gender and sexuality studies, black feminism, African-American satire, postmodern black cultural studies, and feminist theory and methodology.
Plan of Study
African American Studies Webpage
Transfer to African American Studies
Purdue admits to individual majors. Transfer students must meet Purdue's overall transfer criteria, as well as any major-specific requirements. Before you apply, check the closed programs page to confirm this major is open to transfer students. If it is, refer to the information below for major-specific transfer criteria.
Minimum GPA: 2.5
---
Contact Information
Undergraduate Student Recruitment Office
(765) 494-6291
newstudent@purdue.edu
College of Liberal Arts
---
Careers in African American Studies
Teacher
Community Relations & Outreach
Policy Developer
Public Relations
Attorney
Humanitarian Services
Social Services
Journalism
Government Relations
Business
---