Purdue University in West Lafayette
The Bachelor of Arts (BA) in Music program welcomes students to study the vast dimensions of the music field.  This program ensures that a student will gain a comprehensive knowledge base around music theory, music history, and music technology and performance. 
Students who enter the music program must select a concentration in Music Technology or General Music Studies in order to complete this major. The degree integrates performance experiences with academic training to develop thinking musicians. Over the course of their undergraduate experience, music majors are required to perform or present in at least two recitals. 
This major is designed for students who have a passion for music and would like to obtain further knowledge in order to work in the music industry or explore a career for which training in two disciplines is highly desired, such as software development, acoustic architecture design or animation.
All liberal arts majors prepare students with the skills identified as contributing to managerial success: communication and listening well, possessing insights into others, creative/critical thinking, problem solving, and the ability to make connections across complex ideas. 
CLA Faculty Profile: Harry Bulow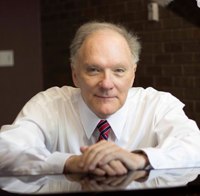 Bulow received his bachelor's degree in music education from San Diego State University, and his M.A. and Ph.D. in music theory and composition from UCLA (1978, 1983). His works have received numerous awards including 1st Prize at the International Composers Competition in Trieste, Italy, the "Oscar Espla" Prize from the city of Alicante, Spain, a NEA Composer Fellowship and 37 consecutive awards from the American Society of Composers, Authors, and Publishers. His works have been performed by numerous bands, orchestras and choirs throughout the United States, Europe and Asia including the Omaha Symphony, Honolulu Symphony, San Antonio Symphony, the Eastman Wind Ensemble, Pittsburgh New Music Ensemble the Moscow National Symphonic Band and the Dallas Wind Symphony.
Harry Bulow has had a distinguished career as a composer, director, saxophonist and music administrator and currently serves as faculty and the Music Division Chair for the Rueff School of Design, Art, and Performance. Professor Bulow teaches courses on Music Theory and Composition.
Plan of Study
Music Webpage
Transfer to Music
Purdue admits to individual majors. Transfer students must meet Purdue's overall transfer criteria, as well as any major-specific requirements. Before you apply, check the closed programs page to confirm this major is open to transfer students. If it is, refer to the information below for major-specific transfer criteria.
Minimum GPA: 2.0
Additional Info: Liberal Arts offers a streamlined plan of study for students pursuing a second degree outside CLA. Contact the CLA Advising Office for more information. 
---
Contact Information
Undergraduate Student Recruitment Office
(765) 494-6291
newstudent@purdue.edu
College of Liberal Arts
---
Careers in Music
Performing Artist
Composer
Talent Agent
Record Producer
Music Teacher
---