Purdue University in West Lafayette
Planetary Science is a multidisciplinary program that incorporates geology, astrobiology, physics, atmospheric science, and engineering.
This major is for students who want to learn more about other planets, as well as study impact craters, asteroids, and meteorites. Our students have the opportunity to learn about the formation of bodies in space, geologic structures on other planets, and/or the mechanics of orbits.
This program provides a strong foundation for graduate school and is a step towards careers at organizations such as NASA and the Jet Propulsion Laboratory (JPL).
Faculty Spotlight: Briony Horga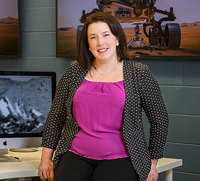 NASA rover has less than two weeks until reaching the red planet
Briony Horgan grew up in Portland, Oregon, where, enjoying the mountains and volcanoes that surrounded the region, she developed a love of geology. A long-standing interest in space made Horgan realize she wasn't confined to study rocks simply on Earth.
Horgan, now an associate professor of planetary science at Purdue, soon will have an opportunity to let her imagination dive into the geology of Mars as part of the NASA Mars rover Perseverance mission, which recently is more than halfway to Mars and has less than two weeks to landing on Feb. 18.
The rover will land in Jezero Crater, just north of the planet's equator. The site used to be a lake and large river delta on the planet. She has played a key role in the mission, including leading mineralogy research. Her team came up with an important finding on the location that contributed to Jezero Crater's selection, and she helped design the camera that will be the scientific eyes for Perseverance.
Horgan's research and a presentation led NASA to select the rover landing site. (Horgan talks about her interest in the rover mission in this video)
"Geology was something I absolutely loved because it explains how the world around us came to be over millions and billions of years," Horgan said. "Doing that in space is even more interesting because the time scales are even more crazy. On Mars, we're talking about 4 billion years of evolution that produced the rocks we see."
It was the 2003 landing of the Mars rover Spirit that has driven Horgan's imagination and her career for the last 17 years.
"Seeing those images come back from the surface was absolutely incredible, and that's what inspired me to pursue planetary science," she said.
The NASA rover Perseverance launched on July 30 from Florida's Cape Canaveral Air Force Station.
Horgan said she loves being able to get into a plane and look down at the Earth and know how a mountain range formed over millions of years, given her studies in geology. But she admits February's landing of the latest Mars rover will take her imagination to new heights.
"The place we're going on Mars, no human eyes have ever seen before," she said. "I can't wait to get onto the surface of the planet and see a new place for the first time through the eyes of the rover.
"It is going to be absolutely inspiring," Horgan said. "We'll be the first humans to see this place on Mars, the first to try to understand what is it telling us about Mars."
Plan of Study
Planetary Science

s, BS
Planetary Sciences Webpage
Transfer to Planetary Sciences
Purdue admits to individual majors. Transfer students must meet Purdue's overall transfer criteria, as well as any major-specific requirements. Before you apply, check the closed programs page to confirm this major is open to transfer students. If it is, refer to the information below for major-specific transfer criteria.
Minimum GPA: 2.5
Additional Requirements: Completion of at least one semester of college-level calculus equivalent to MA 16100 or MA 16500 with a grade of C or higher.
---
Contact Information
Director of Recruiting, College of Science
(765) 494-1990
sciencerecruiting@purdue.edu
College of Science
---
Careers in Planetary Sciences
Graduates have job choices in planning of space missions, the search for potential life in our solar system and developing new technologies. They work as scientists, researchers, engineers, educators, environmental regulators, and often with the government. In addition, many students go to graduate school for advanced study.
---