Ecology, Evolution, and Environmental Sciences
Purdue University in West Lafayette
This major investigates how organisms interact with their physical environment and other organisms, from an evolutionary perspective. Ecologists' work includes research and/or teaching involving population genetics and evolution, adaptive strategies for survival, the nature of populations, and community ecology. Ecologists also offer technical services in connection with environmental impact decisions and regional planning, and environmental education at various levels as teacher, naturalist, or journalist.
Common career paths for undergraduate students include graduate study leading to academic positions (research and teaching in small colleges and major universities), technical positions in industry (mostly dealing with environmental assessment), and employment in state and federal environmental agencies.
Faculty Spotlight: Esteban Fernandez-Juricic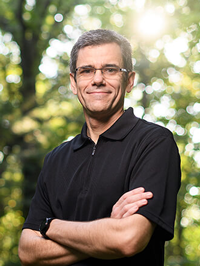 Millions of birds die in collisions each year, but lights could change that
 Millions of birds die each year in collisions with planes, and airports have used everything from fireworks to herding dogs to scare them away. Some methods have been relatively successful, but they're useless after the plane takes off. Researchers at Purdue University may have just found a solution.
Red and blue LED lights lead some birds in the opposite direction, according to a study published Wednesday in the journal PeerJ.    
Lights have been used to try to create "avoidance behavior" in birds before, but literature to support what kinds of light might work was nearly nonexistent. In collaboration with the USDA Animal and Plant Health Inspection Service, the Purdue researchers are starting to uncover some answers.
"The way we figure this out is to give the animal a choice," said Esteban Fernandez-Juricic, a professor of biological sciences at Purdue who led the study at the Ross Biological Reserve.
Here's how it works: Researchers release a bird (in this case, a brown-headed cowbird) and it flies away from them. A few inches away, the flight path is divided – one side has a light on and the other doesn't. A single-choice test, in which the bird chooses between a light on and off rather than between two colors, is ideal for measuring avoidance behavior, said Fernandez-Juricic. If the bird goes to the side without a light, that light might be a good candidate for warning birds of danger.
The test was repeated with five different wavelengths of light. Birds consistently avoided LED lights with peaks at 470 and 630 nanometers, which appear blue and red to the human eye. Ultraviolet (UV), green, and white light didn't generate any obvious pattern of avoidance or attraction.
People have tried using UV lights to shoo birds away in the past, based on the idea that birds have better vision in the ultraviolet range. These findings show that probably isn't an effective approach...
Plan of Study
Ecology, Evolution, and Environmental Sciences Webpage
Transfer to Ecology, Evolution, and Environmental Sciences
Purdue admits to individual majors. Transfer students must meet Purdue's overall transfer criteria, as well as any major-specific requirements. Before you apply, check the closed programs page to confirm this major is open to transfer students. If it is, refer to the information below for major-specific transfer criteria.
Minimum GPA: 2.5
Additional Requirements: Completion of at least one semester of college-level calculus with a grade of C or higher.
---
Contact Information
Director of Recruiting, College of Science
(765) 494-1990
sciencerecruiting@purdue.edu
College of Science
---
Careers in Ecology, Evolution, and Environmental Sciences
Approximately 25% of biology students proceed directly to graduate school in biology or biology-related fields.  
About 45% go on to schools of medicine, veterinary medicine, or dentistry. 
Still others go directly to work in a broad variety of fields. These include research or applied science positions in biotechnology, pharmaceutical, and chemical industries. Some become high school teachers, go into sales, or work for governmental regulatory agencies, zoos, or parks.
---