Cell, Molecular, and Developmental Biology
Purdue University in West Lafayette
Understanding how eukaryotic cells process information from their environment and initiate programs of gene expression leading to growth, development, and functional specification is the essence of a cell, molecular, and developmental (CMD) biology major. Students enrolled in this curriculum will take courses providing a solid foundation in the molecular biology of cells and gain a full appreciation of how molecular complexes interact to make a cell function.
This fundamental knowledge in cell and molecular biology will be applied through further coursework in genetics and developmental biology to examine how eukaryotic organisms function and how specific aspects of that function are perturbed by disease. Within the CMD major, students have the option of focusing their studies on animal systems, plant systems, or both. Graduates with a CMD major are well-prepared to pursue careers in academic or industrial research, biotechnology, genetic engineering, medicine, veterinary medicine, and other health-related professions.
Faculty Spotlight: Seema Mattoo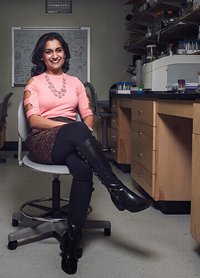 Protein shows promise in treating Parkinson's disease
The true cause of Parkinson's disease is still a mystery to researchers, although they do know that in many patients, a protein called alpha-synuclein (aSyn) tends to aggregate in brain cells. But a different protein could help stop that aggregation, according to a new study in the Journal of Molecular Biology.
HYPE, the only Fic protein found in humans, is a key regulator of whether cells live or die under stress. In order to work properly, proteins need to fold in the correct shape. When cells are stressed, their proteins can become misfolded, at which point they can aggregate and become toxic. Cells sense stress by assessing the amount of misfolded proteins within them.
"Since HYPE plays such an important role in how cells deal with stress from misfolded proteins, we wondered whether diseases that result from protein misfolding were likely to need HYPE," said Seema Mattoo, an assistant professor of biological sciences at Purdue University. "We know that in Parkinson's disease, often the misfolded protein is aSyn. So we asked if HYPE could modify aSyn, and if so, what are the consequences?"
The study shows that HYPE does modify aSyn – and that this new modification, called AMPylation, decreases aggregation.
Clumps of aSyn, known as Lewy bodies, are the pathological hallmark of Parkinson's disease. Aggregated aSyn can poke holes in the membranes of neurons, which causes a decline in nerve function and messes up how nerve cells communicate.
To figure out if lower aggregation of aSyn actually translates to fewer poked holes, Mattoo worked with Jean-Christophe Rochet, a professor of medicinal chemistry and molecular pharmacology at Purdue, to mimic a membrane using different lipids and then compare how the modified and unmodified aSyn fared against it. The lipids were loaded with dye, which would leak out if holes were poked.    
"We found that less dye was released with the modified aSyn, meaning the membrane stayed more intact," said Mattoo, who is also a member of Purdue's Institute of Inflammation, Immunology and Infectious Disease and Center for Cancer Research. "That means HYPE could possibly have a therapeutic effect on Parkinson's disease."
Plan of Study
Cell, Molecular, and Developmental Biology Webpage
Transfer to Cell, Molecular, and Developmental Biology
Purdue admits to individual majors. Transfer students must meet Purdue's overall transfer criteria, as well as any major-specific requirements. Before you apply, check the closed programs page to confirm this major is open to transfer students. If it is, refer to the information below for major-specific transfer criteria.
Minimum GPA: 2.5
Additional Requirements: Completion of at least one semester of college-level calculus with a grade of C or higher.
---
Contact Information
Director of Recruiting, College of Science
(765) 494-1990
sciencerecruiting@purdue.edu
College of Science
---
Careers in Cell, Molecular, and Developmental Biology
Approximately 25% of biology students proceed directly to graduate school in biology or biology-related fields.  About 45% go on to schools of medicine, veterinary medicine, or dentistry.  Still others go directly to work in a broad variety of fields.
These include research or applied science positions in biotechnology, pharmaceutical, and chemical industries. Some become high school teachers, go into sales, or work for governmental regulatory agencies, zoos, or parks.
---