Purdue University in West Lafayette
Genetics is the science of information transfer from one generation to another. We learn the laws of inheritance in all creatures big and small, how they evolve and how they change. On the molecular level we learn about DNA and RNA, on the cellular level we discover what makes a cell cancerous, and on an organismal level we examine the reproductive habits of various organisms.
Crucial principles include the structure, function, and transmission of genes. Laboratory techniques explore genetic engineering from the "inside." Genetics is crucial to all of biology, hence a genetics major has great flexibility. This is excellent preparation for advanced study in biological sciences, law, genetic counseling, and many health-related professions.
Faculty Spotlight: Peristera Paschou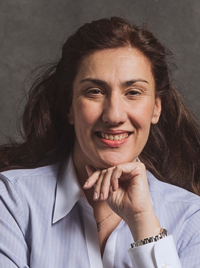 Study finds gene associated with higher risk of Tourette syndrome
Tourette syndrome, although not life-threatening, can have serious impacts on the lives of those affected. As many as 1 percent of all children between the ages of 5 and 17 in the U.S. are affected by Tic disorders, but no medications exist that completely eradicate symptoms.
Researchers know Tourette syndrome is inherited, but genetically, it is extremely complex. The condition is polygenic, which means it's controlled by two or more genes (usually several), at different places on different chromosomes. This is why a large group of international researchers has come together to pursue the largest genome-wide scan for Tourette syndrome to date.
"Our goal was to identify genetic variants that are common in the population and increase the risk for onset of symptoms," said Peristera Paschou, an associate professor of biological sciences at Purdue University.
By analyzing a sample of nearly 5,000 patients with Tourette syndrome and 9,500 controls, the researchers found a genetic variant on chromosome 13 associated with a higher risk for the disease. The findings were published in The American Journal of Psychiatry.
"Using information from the entire genome, we were able to construct polygenic risk scores that predicted Tourette syndrome severity," Paschou said. "These can be used to simultaneously consider risk conferred by multiple genes throughout the genome. The results validate the highly polygenic nature of Tourette syndrome and provide a genomic profile that is associated with more severe symptoms in patients."
Determining the genetic architecture of the disease is key to treating and preventing it. But the pattern of inheritance is complex; there could be a few genes with substantial effects, or many genes with smaller effects and environmental factors could play a role.
A future collaborative study between Purdue, Massachusetts General Hospital and the University of Florida will analyze an even larger sample of nearly 12,000 patients.
"Our ultimate goal is to help guide future drug development and clinical trials for Tourette syndrome," Paschou said.  
The work aligns with Purdue's Giant Leaps celebration, acknowledging the university's global advancements made in health, longevity and quality of life as part of Purdue's 150th anniversary. This is one of the four themes of the yearlong celebration's Ideas Festival, designed to showcase Purdue as an intellectual center solving real-world issues. 
Plan of Study
Genetics Webpage
Transfer to Genetics
Purdue admits to individual majors. Transfer students must meet Purdue's overall transfer criteria, as well as any major-specific requirements. Before you apply, check the closed programs page to confirm this major is open to transfer students. If it is, refer to the information below for major-specific transfer criteria.
Minimum GPA: 2.5
Additional Requirements: Completion of at least one semester of college-level calculus with a grade of C or higher.
---
Contact Information
Director of Recruiting, College of Science
(765) 494-1990
sciencerecruiting@purdue.edu
College of Science
---
Careers in Genetics
Approximately 25% of biology students proceed directly to graduate school in biology or biology-related fields.  
About 45% go on to schools of medicine, veterinary medicine, or dentistry. 
Still others go directly to work in a broad variety of fields. These include research or applied science positions in biotechnology, pharmaceutical, and chemical industries. Some become high school teachers, go into sales, or work for governmental regulatory agencies, zoos, or parks.
---