Purdue University in West Lafayette
Microbiology includes the study of viruses, bacteria, and fungi. A student can expect to study topics such as microbial growth, nutrition, metabolism, pathogenesis, morphogenesis, and production of antibiotics.
Career opportunities are found in public health, medical laboratories, quality assurance, environmental toxicology, and related areas. A microbiology major provides excellent preparation for advanced study (or direct employment) in biological sciences, education, and many health-related professions.
Faculty Spotlight: Maureen McCann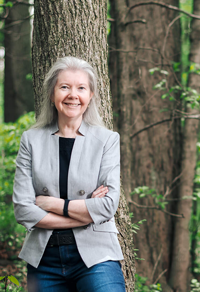 Can renewable energy really replace fossil fuels?
Scientist turns to zinnias, roadside weeds, other plants to create efficient biofuels
As global temperatures and energy demand rise simultaneously, the search for sustainable fuel sources is more urgent than ever. But how can renewable energy possibly scale up to replace the vast quantities of oil and gas we consume?
Plant power is a significant piece of the answer, says Purdue scientist Maureen McCann.
"Plants are the basis of the future bioeconomy," she says. "In my mind, building a sustainable economy means we stop digging carbon out of ground and begin to make use of one and a half billion tons of biomass available in the U.S. on an annual basis. That's the strategic carbon reserve that we need to exploit in order to displace oil."
McCann is a professor of biological sciences, former director of the Energy Center at Purdue's Discovery Park, and president-elect of the American Society of Plant Biologists. She has spent her academic career looking at plant cell walls, which contain some of the most complicated molecules in nature. By studying a wide range of plants — from poplar trees to zinnias — ­her lab has characterized hundreds of plant genes and their products in an effort to understand how they all interact and how they could be manipulated in advantageous ways.
The ethanol industry uses enzymes to break starchy corn kernels down into glucose molecules, which, in turn, are fermented by microorganisms to produce usable fuel. Many researchers have been working on the possibility of getting more glucose by breaking down cellulose — the primary fibrous component of all plant cell walls — which is much more abundant than starch. However, McCann says their methods might be ignoring a valuable resource...(Read More)
Plan of Study
Microbiology Webpage
Transfer to Microbiology
Purdue admits to individual majors. Transfer students must meet Purdue's overall transfer criteria, as well as any major-specific requirements. Before you apply, check the closed programs page to confirm this major is open to transfer students. If it is, refer to the information below for major-specific transfer criteria.
Minimum GPA: 2.5
Additional Requirements: Completion of at least one semester of college-level calculus with a grade of C or higher.
---
Contact Information
Director of Recruiting, College of Science
(765) 494-1990
sciencerecruiting@purdue.edu
College of Science
---
Careers in Microbiology
Approximately 25% of biology students proceed directly to graduate school in biology or biology-related fields.  
About 45% go on to schools of medicine, veterinary medicine, or dentistry. 
Still others go directly to work in a broad variety of fields. These include research or applied science positions in biotechnology, pharmaceutical, and chemical industries.
Some become high school teachers, go into sales, or work for governmental regulatory agencies, zoos, or parks.
---