Purdue University in West Lafayette
Chemistry majors can pursue one of two degrees:
A bachelor of science in chemistry, accredited by the American Chemical Society (ACS);

Chemistry (ACS accredited) is designed primarily for students planning professional careers as chemists in industry, universities, or research institutes. This degree program fulfills the recommendations of the Committee of Professional Training of the ACS and graduates will be certified by the ACS as having fulfilled its recommended requirements. This major is designed primarily for students planning professional careers as chemists in industry, universities, or research institutes. It offers opportunities for mentoring programs and cutting-edge research in a wide range of fields from drug discovery to climate change.



or a more flexible bachelor of science with chemistry as a field of study.

The bachelor of science with chemistry as a field of study is designed for those who want training in chemistry and freedom to pursue minors or second majors in other areas. Common areas of interest have been forensic sciences, biology, foreign languages, management, psychology, and other liberal arts programs. The flexibility in this program adapts easily to Study Abroad semesters.
Faculty Spotlight: Jonathan Wilker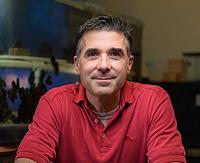 Shellfish inspire chemists to develop new stronger, more sustainable glues
Humans rely on the ocean for a vast array resources: food, energy, minerals, even the less tangible ones of inspiration and recreation. But one ocean byproduct may not be obvious: glue.
Shellfish have been clinging to rocks for eons longer than humans have used glue. And their natural adhesives tend to be much stronger and more durable than anything developed by humans – even the fast-acting, strong glues found on store shelves and advertised on TV. Which led Purdue University chemists to wonder: Why don't we just use whatever they're using? Anyone who has ever tried to unstick a barnacle from a rock knows that it's nearly impossible.
That success is something Jonathan Wilker, professor of chemistry and materials engineering, and his lab are hoping to learn from – and build on.
Shellfish and saltwater: underwater adhesion that works
"We start by looking at animals that make adhesives," Wilker said. "We're still working to understand the fundamentals of how animals like mussels and oysters do what they do, how the chemistry and engineering work together. We are even seeing how the environment around them and the surface they're sticking to influences what they do."
Critters such as barnacles, mussels and oysters live in places where they are continually battered by waves and wind and pried at by potential predators. Their very lives depend on being able to cling to rocks and their neighboring shellfish.
Sutures, screws and staples are all widely used to close wounds, bind tissues and set bones, but they are all very damaging and extremely painful. If doctors had a chemical adhesive that they could use instead, healing would increase and collateral damage would decrease. However, the body is a challenging environment for adhesives: wet and constantly in motion. A lot like the sea.
Scientists in Wilker's lab – which includes two postdoctoral researchers, five graduate students, four undergraduate researchers and 1,000 shellfish – study how shellfish create materials, what components of the adhesives play active roles in bonding and test new synthetic and biomimetic glues to determine their efficacy, feasibility and performance. They are building on that understanding to develop new adhesives that work underwater, are stronger, more sustainable, made from food products and that can be un-stuck when needed
"We're making adhesives with new functionalities" Wilker said. "We can add in new chemical groups to target all sorts of properties, be that wet bonding, rubber-like flexibility or the ability to bond and then de-bond. One of our systems can even be stronger than what the animals make underwater. In that case, we are using chemistry that is inspired by the shellfish but, overall, our system is a simplification of what the animals produce."...
Plan of Study
Chemistry Webpage
Transfer to Chemistry
Purdue admits to individual majors. Transfer students must meet Purdue's overall transfer criteria, as well as any major-specific requirements. Before you apply, check the closed programs page to confirm this major is open to transfer students. If it is, refer to the information below for major-specific transfer criteria.
Minimum GPA: 2.5
Additional Requirements: Completion of at least one semester of college-level calculus equivalent to MA 16100 or MA 16500 with a grade of C or higher.
---
Contact Information
Director of Recruiting, College of Science
(765) 494-1990
sciencerecruiting@purdue.edu
College of Science
---
Careers in Chemistry
Many graduates work in research and development in a wide variety of fields, while others choose jobs such as lab supervisor, pharmaceutical sales, analytical services, or quality control. Students also learn communication, teamwork, and problem-solving skills as well as the technical skills necessary for careers in biotechnology, chemical, and pharmaceutical industries.
---