Purdue University in Indianapolis, Purdue University in West Lafayette
It's hard to imagine an industry that hasn't been transformed by computer science. From big data to security – from mobile apps to healthcare software – computer scientists' work affects millions of people.
Housed within the College of Science, Purdue's Department of Computer Science is the world's oldest existing computer science department. You'll join a department with a legacy of innovation in both advancing scientific research and creating industry applications. Here, you'll learn the fundamentals of computer science so that your skills can evolve as the field changes in exciting and dynamic ways.
Curriculum
First, you'll learn the foundations of computing in six core computer science courses.
Then, you can customize your degree by specializing in one or more tracks – different areas of computer science in which you can learn and grow.
Have a lot of interests? No problem. Our flexible curriculum allows students to pursue interdisciplinary work such as a second major or minor. Many students double major in math, statistics, and data science.
Student Life
There is a strong sense of community in Purdue's Computer Science program. We've designed many resources to help you succeed, like the Bridge Program (which can introduce you to coding the summer before your freshman year begins) and the Computer Science Learning Community (where you'll live and learn with your CS freshman peers in Purdue's residence halls).
---
Priority Application Deadline for Fall Enrollment: Nov. 1
---
Student Spotlight: Esteban Vicente-Paulino Richey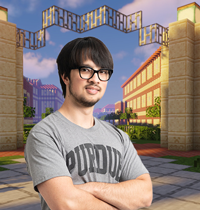 Purdue inside Minecraft
One student's persistent pursuit to build Purdue University inside the game Minecraft
Any Boilermaker alumni could tell you that Purdue University's campus is defined by the beautiful brick buildings, iconic fountains and bell tower. Now, a Purdue student is building his own version of Purdue's campus for the gaming generation in the world of Minecraft, making this No. 10 Best Public University in the U.S. accessible to all.
A senior in Purdue's computer science program, Esteban Vicente-Paulino Richey has built Purdue's campus inside of the popular video game Minecraft. First starting his passion project in 2019, 300 hours later and 3 million blocks placed, Richey has 52% of campus built within the game. He has finished many campus buildings north of State Street alongside Andrew Klotz, who helped build 30% of the project. The finished buildings include the Wilmeth Active Learning Center, the Class of 1950 Lecture Hall, Elliott Hall of Music, campus residence halls, Ross-Ade Stadium and even Purdue Mall, complete with the Class of 1939 Water Sculpture.
Minecraft was first released to the public in 2011. It is considered a "sandbox game," where there are no specific goals to accomplish, allowing the player full freedom and creativity. The world of Minecraft consists of different cubes of materials called blocks, where the player can arrange and rearrange them to build scenes and structures. With over 200 million copies sold and 126 million monthly active users as of 2020, Minecraft is known as the best-selling video game of all time. 
Richey's love of Minecraft started when he was in middle school in Carmel, Indiana, and the game was first released. His family had a computer that couldn't run the game at the time, but he could watch others play on YouTube. In 2013, his family got a new computer that could play Minecraft, and he has been playing ever since.
"I feel like Minecraft is now a generational type of game, that people around the college age have played or grew up with this game. It's a game that a lot of people can get into easily, be creative and collaborate with others," Richey says.
Plan of Study
Computer Science Webpage
Transfer to Computer Science
Purdue admits to individual majors. Transfer students must meet Purdue's overall transfer criteria, as well as any major-specific requirements. Before you apply, check the closed programs page to confirm this major is open to transfer students. If it is, refer to the information below for major-specific transfer criteria.
Admission is selective. The most qualified students are selected from the pool of applicants. 
---
Contact Information
Director of Recruiting, College of Science
(765) 494-1990
sciencerecruiting@purdue.edu
College of Science
---
Careers in Computer Science
Our graduates are in high demand, with a placement rate of nearly 100 percent. After graduation, they take jobs in diverse fields like industry, government, healthcare, and finance. Many also go on to graduate or professional school in many fields. This major opens many doors.
Many corporations partner with Purdue in order to gain access to our top-quality CS grads. That means there are plenty of opportunities for jobs and internships. There is a wide spectrum of jobs available to computer science majors – all the way from Microsoft and Google to start-up companies you may have never heard of. No matter what kind of working environment you're looking for, there is a computer science job for you.
---