Supply Chain and Operations Management
Learn the planning and management of all activities involved in the flow of goods and services, from capacity planning to sustainability routing. Krannert's Supply Chain and Operations Management program emphasizes the latest business concepts, models, and strategies for modern supply chains and operations.
Strategic design of agile supply chains has become more important than ever with the rapid advancement of technology. Successful future supply chain and operations leaders need a broad understanding of many business functions, from finance to accounting to human resources and leadership -- and that's what Krannert's Supply Chain and Operations Management program provides. Also, our expert faculty offer advanced knowledge in logistics, manufacturing, strategic sourcing and procurement, and project management.
Through a data-driven approach, you will be prepared to optimize business performance as buyers; inventory planning specialists; logistics engineers, and supply chain material or project specialists, among many more possibilities.
As a Supply Chain and Operations Management student, you will learn from the same world-class faculty who teach in our highly ranked master's program in Global Supply Chain Management. That program was named the #4 master's program in supply chain management by QS in 2021.
Krannert People: James Rudnicki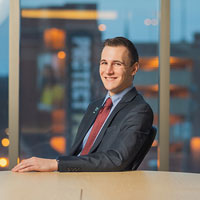 Supply chain major James Rudnicki doesn't hesitate when recommending Purdue and the Krannert School to others.
"One piece of advice I would give to any prospective student and their parents is that the opportunities at Purdue are virtually limitless," he says. "It doesn't matter who you are coming in, it matters what you make of it."
And he's made a lot of his time at Krannert. He is part of the Larsen Leaders Academy and is also in the Krannert School's 3+2 program, which allows students to earn both an undergraduate and master's degree in five years.
The Larsen Leaders Academy is for high-performing business students who embrace challenging academic programs, applied learning through hands-on industry projects, professional development opportunities, and internships that prepare them for jobs with global organizations and enrollment in prestigious graduate programs.
Read more about the opportunities Rudnicki has explored at Krannert.
Plan of Study
Supply Chain and Operations Management Webpage
Transfer to Supply Chain and Operations Management
Purdue admits to individual majors. Transfer students must meet Purdue's overall transfer criteria, as well as any major-specific requirements. Before you apply, check the closed programs page to confirm this major is open to transfer students. If it is, refer to the information below for major-specific transfer criteria.
Minimum GPA: 3.0
Additional Requirements: Must have a grade of B or better in a college-level calculus class.
---
Contact Information
A.J. Frigo
(765) 496-0264
krannertundergrad@purdue.edu
Krannert School of Management
---
Careers in Supply Chain and Operations Management
Operations Specialist
Process Improvement Lead
Sourcing & Procurement
Supply Chain Analyst
---