Economics (School of Management)
If you enjoy math, problem solving, and the potential to make a difference, then Economics through the Krannert School of Management is a great choice for you!
Economics is the study of the choices people make. More formally, it's a study of the choices people make as they cope with scarcity and the incentives that influence those choices. When a company decides to hire a new employee, what characteristics determine who is the "best" to hire? If a company chooses to hire one employee and not the other, what do they gain and what do they lose? Or, when the government raises taxes on gasoline, how will that affect the amount people purchase and how will incomes for gasoline companies be affected? As an Econ major, you will learn how to navigate through a data set, extract something useful and appropriate from it, and properly interpret those results. 
Economists work for local, state, and federal government, as consultants for corporations, in the banking industry, and as analysts in the private and public sectors. Students who continue in graduate studies commonly get advanced degrees in business, law, and economics.
Krannert People: Kelly Blanchard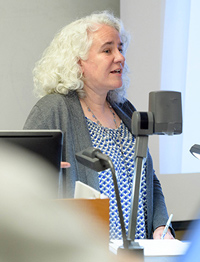 Sometimes the best teachers learn from the worst. Just ask Kelly Blanchard, an award-winning continuing lecturer in economics.
"Most of my philosophy of teaching comes from my experience with teachers I've had over my lifetime, both good teachers and bad ones," she says. "The best were able to explain topics in a variety of ways, while the worst tended to ignore student questions and would change course requirements in the middle of the semester."
Blanchard says her daughter, a Purdue engineering student, also influences her teaching style, including the use of Hotseat technology in the classroom. Hotseat is a real-time discussion application developed by Information Technology at Purdue to gather instant, in-class feedback on students' understanding of course material.
"The realization that my students are the same age as my own daughter has helped me understand a little more about this generation of students," she says. "Their comfort with and reliance on their phones, for example, encouraged me to start using Hotseat so students can use their phones to respond to questions I ask in class."
Blanchard hopes the Hotseat technology makes her courses even more organized, easy to follow and relevant to the decisions students will be making in their careers.
"I enjoy trying to figure out how individual students learn," she says. "I know what worked best for me as a student, but I'm always interested in experimenting with new approaches and new technologies, especially ones that can improve the learning environment in my large lecture courses."
Blanchard has been widely recognized for her work in the classroom, including being inducted in 2017 to the Purdue Teaching Academy. The academy strives to bring together the best teachers across campus to create a collective voice for teaching and learning on campus. Faculty and lecturers are nominated and selected by their peers to join.
"At research institutions, it's not always apparent that there are also dedicated teachers, and my experiences with the Teaching Academy have introduced me to many faculty members here who not only care about their research but also care deeply about their teaching," she says.
Blanchard's most recent honor came last November when the business school educational website Poets & Quants named her among its "Top 50 Undergraduate Professors" of 2018.  
Blanchard, who started teaching after receiving her PhD from Purdue, says her greatest reward as an instructor is when a former student stops her in the hallway, on the street, or even on vacation to share with her the difference she made in their education.
"I'm impressed with most of what my students accomplish, but the student who has most impressed me is one who graduated with her bachelor's degree in economics and then went on to complete a PhD and a post-doc," Blanchard says. "She is now working on research to reduce achievement gaps in childhood education."
Plan of Study
Economics (School of Management) Webpage
Transfer to Economics (School of Management)
Purdue admits to individual majors. Transfer students must meet Purdue's overall transfer criteria, as well as any major-specific requirements. Before you apply, check the closed programs page to confirm this major is open to transfer students. If it is, refer to the information below for major-specific transfer criteria.
Minimum GPA: 3.0
Additional Requirements: Must have a grade of B or better in any college level calculus class.
---
Contact Information
Mary Laurie
(765) 494-4347
krannertundergrad@purdue.edu
Krannert School of Management
---
Careers in Economics (School of Management)
Job titles of recent Krannert Economics graduates:
Analyst for a consumer products firm
Strategy consultant for a planning and development services company
Project manager for a health care firm
IT analyst at a global management consulting company
---