Finance is managing wealth, money and assets. Every investment can lead to high returns or substantial losses, so it's all about understanding the risk of opportunities and searching for the return potential on a new venture. You learn how to interpret financial statements, securities and the markets where they are traded.
Courses in finance incorporate the principles of financial reporting, quantitative analysis, economics, psychology and history. Graduates find careers in corporate, government, and not-for-profit sectors as well as consulting firms and financial institutions of all shapes and sizes.
Krannert People: Mara Faccio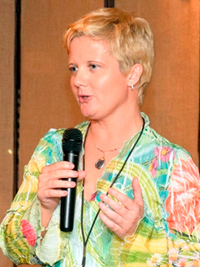 Describing Mara Faccio's research efforts as relentless and innovative might be an understatement.
A professor of finance and the Hanna Chair in Entrepreneurship at Purdue's Krannert School, the Italian-born Faccio focuses primarily on international corporate finance, family firms, mergers and acquisitions, and corporate political connections.
Indeed, Faccio is at her best while managing several research projects. She has juggled as many as 10 journal articles at a time and has coauthored award-winning papers in the Journal of Financial Economics as well as the Journal of Finance.
She has also been published in the American Economic Review, the Review of Financial Studies, Financial Management, the Journal of Business, the Journal of Corporate Finance, and the Journal of Financial and Quantitative Analysis, among others.
Among the projects she is currently tackling is regulatory capture — the process in which agencies become dominated by the industries they are supposed to be overseeing, particularly the telecommunications sector. Instead, the agency acts in ways that benefit the industry rather than the public's best interest. 
She addressed the latter topic in October at Dawn or Doom '16, an annual Purdue University conference on the risks and rewards of new technology.
Faccio's paper, "Political determinants of competition in the mobile telecommunication industry," coauthored with University of Chicago professor Luigi Zingales, shows that four percent of high-level employees at mobile phone service companies also have high-level experience in government, which she says begets a quid pro quo environment.
"Government employees can affect competition through regulation, price controls, restrictions on entry, and more," she explains. "If they do so in a way that benefits Company A over Company B, for example, they might go on to become Company A's employees with generous salaries."
Faccio's research reveals specific examples of such cross-pollination at AT&T and Sprint in the United States, among other places. "Competition is more intense in countries where politicians don't work for the mobile operating companies and the regulations in place are more likely to protect the interests of consumers," she says.
An earlier research study explored political connections with the private equity industry, which has been a popular subject of debate due to its possible impact on unemployment.
"Because there has been criticism raised by unions and politicians and also supported in some academic studies, we went back to investigate whether or not private equity firms that had political ties are destroying jobs," she says.
"Part of the reason could be that politicians don't want to be affiliated with the firms that fire employees, but part of the story could be that these companies are helping politicians win elections by keeping employees that perhaps should be fired," Faccio reasons. "When politicians win elections, they then give something back to the company in exchange, such as a new contract or funding."
The bottom line — Faccio relishes the idea of exposing corruption and impropriety in the finance world and smiles even thinking about the topic. "Anything that is illegal is always very exciting," she says.
Plan of Study
Finance Webpage
Transfer to Finance
Purdue admits to individual majors. Transfer students must meet Purdue's overall transfer criteria, as well as any major-specific requirements. Before you apply, check the closed programs page to confirm this major is open to transfer students. If it is, refer to the information below for major-specific transfer criteria.
Minimum GPA: 3.0
Additional Requirements: Must have a grade of B or better in any college level calculus class.
---
Contact Information
Mary Laurie
(765) 494-4347
krannertundergrad@purdue.edu
Krannert School of Management
---
Careers in Finance
Job titles of recent Krannert graduates:
Financial analyst for a global engine designer and manufacturer
Financial advisor for a financial investment group
Analyst for a multinational banking financial services holding company
Research analyst for a global management consulting firm
---