Purdue University in West Lafayette
Accountants make sense of dollars. They prepare and interpret financial information that companies will use for strategic planning, and they adhere to the highest of standards when carrying out their responsibilities.
With an Accounting degree, you can pursue a career auditing financial statements, doing tax preparation work and more. Stay at the Daniels School for our one-year master's program in accounting and be eligible to sit for the CPA exam. As an undergraduate you will learn how to manage the design, control, and operation of accounting information systems; to understand the many accounting problems and issues faced in an international business environment; data visualization and more, in an academic plan that includes real-world learning with public accounting firms, nonprofits, and government agencies. Further boost your experience by joining the Purdue Accounting Association, or getting involved with the Association of Certified Fraud Examiners-Purdue Chapter.
Meet our Students: Collin Shelton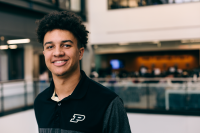 As a finance major minoring in accounting, Collin Shelton works with data and sharpens his analytical thinking skills in most of his classes. His professors also place a heavy emphasis on learning how to think critically. Collin's business school courses prepared him for his first internship at PricewaterhouseCoopers International Limited (PwC) the summer after his sophomore year. He benefitted from extensive training in software programs including Tableau, Alteryx, Power BI, and Advanced Excel. Collin and his fellow interns were able to come together to form solutions to real company challenges.  
This outside-of-the-classroom experience, along with his Purdue coursework, provided Collin with the skills he needed to land an internship during the summer after his junior year as a corporate finance intern at Procter & Gamble.   
Plan of Study
Accounting Webpage
Transfer to Accounting
Purdue admits to individual majors. Transfer students must meet Purdue's overall transfer criteria, as well as any major-specific requirements. Before you apply, check the closed programs page to confirm this major is open to transfer students. If it is, refer to the information below for major-specific transfer criteria.
Minimum GPA: 3.0
Additional Requirements: Must have a grade of B or better in any college level calculus class.
---
Contact Information
A.J. Frigo
(765) 496-0264
businessundergrad@purdue.edu
Daniels School of Business
---
Careers in Accounting
Tax and Assurance Professional at a public accounting firm
Financial analyst for a major defense contractor
Revenue agent for a government branch
Operations agent for a financial services firm
---