Accountants help make sense out of dollars. They prepare and interpret financial information that companies will use for strategic planning. And they carry out their responsibilities according to the highest standards of integrity.
With Krannert's Accounting degree, you can pursue a career in accounting or stay for a Master of Science Degree in Accounting, to be eligible to sit for the CPA exam. You'll have the opportunity to work in corporations, public accounting firms, non-profit organizations, and government agencies. In addition to your accounting classes, you'll have class work in other areas, including finance, marketing, and human resource management, which will give you an overall understanding of the business world.
Krannert People: Shawn Taylor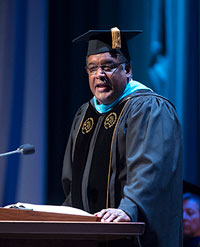 Raised by a single mother and one of four children on the Southside of Chicago where drugs and gangs were prevalent, Shawn Taylor overcame the odds.
Instead of running a multi-million dollar corporation and purchasing a limited partnership in the Houston Astros, Taylor's destiny easily could've landed him in prison, or possibly dead.
Taylor, though, carved out his own course. He attended Purdue's Krannert School of Management to major in accounting and graduated with Distinction (Top 10 percent of his class).
Education was his way out of Chicago, but Taylor knew he needed more to reach his personal goals. He developed his own formula for success.
"The vast majority of people work 40-50 hours a week," Taylor said. "Once you get past that threshold, the competition drops off significantly. Again, it comes down to if you're not in the game, if you're not doing the work, you'll never get the opportunity. That made the difference for me."
The difference led to a position with Arthur Andersen and American Express after graduation, but the turning point came in 1994 when Taylor decided to pursue entrepreneurism. Taylor became a Taco Bell franchisee and started his own company – Family EATs Limited Partnership – and operated as many as 33 Taco Bell locations around Houston.  
He wasn't done. In 2011, Taylor joined a group of business professionals to purchase the Houston Astros. Two years later, Taylor became president and operating partner of Zaxby's Houston, LLC, a multi-unit restaurant franchise operating in 570 locations in 13 states. 
His foundation for success began during his undergraduate days at Krannert, which named Taylor the Burton D. Morgan Entrepreneurship Award winner in 2012.
"At Purdue, I realized I get distracted easily studying in the dorm," Taylor recalled. "I found a library that I was comfortable with and I went down into the lower levels where there were no windows. Why was that important to me? Because I didn't want to have a sense of time. I didn't want to feel, 'gosh, how long have I been here? It was daylight when I got in here and it's dark now.' I didn't want that distraction. I could focus on what I needed to do. I carried that into my career." ​
See more: original article.
Plan of Study
Accounting Webpage
Transfer to Accounting
Purdue admits to individual majors. Transfer students must meet Purdue's overall transfer criteria, as well as any major-specific requirements. Before you apply, check the closed programs page to confirm this major is open to transfer students. If it is, refer to the information below for major-specific transfer criteria.
Minimum GPA: 3.0
Additional Requirements: Must have a grade of B or better in any college level calculus class.
---
Contact Information
Mary Laurie
765) 494-4347
krannertundergrad@purdue.edu
Krannert School of Management
---
Careers in Accounting
Tax and Assurance Professional at a public accounting firm
Financial analyst for a major defense contractor
Revenue agent for a government branch
Operations agent for a financial services firm
---