Business Analytics and Information Management
If you enjoy working with data, and want to use big data systems to improve efficiencies and create value for your company, then the Krannert School of Management's Business Analytics and Information Management (BAIM) program is for you!
The program was created to prepare highly capable graduates to pursue promising careers in the data-driven economy. BAIM leverages Purdue University's strengths in STEM and Krannert's well-earned reputation in quantitative methods and management information systems.
As a BAIM major, you will learn how to query and manipulate data to translate analytic insights into business values. Currently, there is a gap in the business world: data scientists with technical training focus on perfecting their analytics models, but are unable to effectively communicate how data can help solve complex business problems. This cross-discipline major will teach you how to bridge that gap. Want to help a major retailer use the behavior data of their customers? How about aiding a global supply chain by using GPS transportation data and weather data?  
Krannert faculty emphasize analytics fluency; data management; computer programming skills and familiarity with software tools; communication and visualization skills; and industry-specific knowledge and analytics models.
Krannert People: Roy Dejoie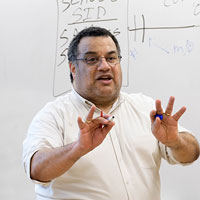 Ask Krannert students and alumni about their most impactful teachers, and the name Roy Dejoie often comes up.
Dejoie, a clinical assistant professor of management, has been awarded multiple Krannert Excellence in Undergraduate Teaching Awards and numerous Distinguished Teacher recognitions at both the undergraduate and graduate school level.
He is a faculty member in Krannert's new Business Analytics and Information Management (BAIM) major and was instrumental in the creation of the program.
In May 2021, Dejoie and Darren L. Henry, Managing Director of Krannert's Dr. Cornell A. Bell Business Opportunity Program (BOP) was named Krannert Dean's Fellows for Diversity, Equity and Inclusion.
Read more about Dejoie and his academic and professional journey.
Plan of Study
Business Analytics and Information Management Webpage
Transfer to Business Analytics and Information Management
Purdue admits to individual majors. Transfer students must meet Purdue's overall transfer criteria, as well as any major-specific requirements. Before you apply, check the closed programs page to confirm this major is open to transfer students. If it is, refer to the information below for major-specific transfer criteria.
Minimum GPA: 3.0
Additional Requirements: Must have a grade of B or better in a college-level calculus class.
---
Contact Information
A.J. Frigo
(765) 496-0264
krannertundergrad@purdue.edu
Krannert School of Management
---
Careers in Business Analytics and Information Management
Application Software Developer
Business Analyst
Data Scientist
Database Manager
---