Purdue University in West Lafayette
Psychological Sciences provides a broad overview of many of the sub-fields of psychology. Courses focus on: clinical psychology (mental illness and behavioral problems), cognitive psychology (memory, thinking, and reasoning), developmental psychology (human growth and aging), industrial/organizational psychology (how people work together), behavioral neuroscience (biological bases of behavior), social psychology (thoughts and behavior in social situations), learning and motivation, statistics and mathematical models of behavior.
Psychological Sciences is developing co-op opportunities for undergraduate students. Students participating in co-ops will spend two semesters working within their field of interest throughout the undergraduate program.
Psychological Sciences students have the option to also earn a Master's degree in either Public Health or Applied Behavior Analysis through an accelerated 4+1 agreement.
Psychological Sciences offers excellent preparation for students interested in pursuing graduate and professional school, especially law school and occupational therapy.
HHS Life 360: David Rollock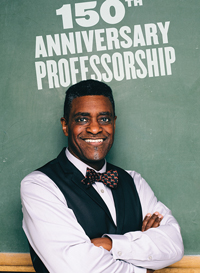 Born and raised in Brooklyn, New York, David Rollock says he was always the kid that other kids told their problems. That sympathetic ear, academic curiosity, and infectious personality served him well through high school and Ivy League educations at Princeton and Yale, where he earned his undergraduate degree and Ph.D., respectively.
Rollock, former department head and professor of psychological sciences, recalls reading a high school textbook that suggested the IQ performance of African-Americans and other underrepresented minorities was lower than the average American score. ...
"That did not square at all with my personal experience, so I figured there was something not quite right about how they were collecting or sharing their data," he says. "I decided I wanted to be part of the enterprise that dealt with generating new information and framing it in ways to both inform the profession and help make lives better."
As part of that research and teaching enterprise at Purdue since 1988, Rollock has earned numerous teaching awards. He was among 10 faculty members across campus awarded 150th Anniversary Professorships. The named professorship recognizes teaching excellence, as well as a history of outstanding mentoring.
In characterizing his own teaching philosophy, Rollock believes it's his job to help people connect with the material. "That means deploying multiple techniques to meet multiple learners where their preferred styles of learning might be," he says. "Sometimes I lecture because, similar to many faculty colleagues, I like to be a 'sage on a stage.' But we also need interactive demonstrations, places where students actively see the processes they're learning about."
Rollock also has transitioned happily into a mentorship role, having served as chair of the University's Teaching Academy and becoming a tireless advocate of instructional excellence. Still, it's hard to beat that exchange with students. "Teaching keeps one on one's toes," he says. "It forces us to be clear, as well as thoughtful.
Excerpt from Our Teaching Best, Honoring the teaching award winners from HHS by William Meiner
Plan of Study
Psychological Sciences Webpage
Transfer to Psychological Sciences
Purdue admits to individual majors. Transfer students must meet Purdue's overall transfer criteria, as well as any major-specific requirements. Before you apply, check the closed programs page to confirm this major is open to transfer students. If it is, refer to the information below for major-specific transfer criteria.
Minimum GPA: 2.5
---
Contact Information
HHS Undergraduate Student Services
(765) 494-8533
HHSRecruitment@purdue.edu
College of Health and Human Sciences
---
Careers in Psychological Sciences
Advertising, marketing, and public relations
Child care and gerontology
College administration
Criminal justice
Human resources
Human services and health care
Management and sales
Recreation
Research
Psychological counseling
Professional/graduate school or law
Medical school
---