Purdue University in West Lafayette
The bachelor's degree program in nursing is a direct-admit program where students complete four years of nursing courses including three years of clinical placements. Nursing prepares students for licensure as an RN, a dynamic career, leadership positions, and graduate education. 
Employment for RNs is projected to grow by more than 19% related to an increased emphasis on preventive care, growing rates of chronic conditions and a demand for healthcare services from baby boomers who are living longer, more active lives.  Nurse practitioner positions are estimated to increase by 34%.  Both of these figures are well ahead of the projected 11% growth for all occupations (BLS). Baccalaureate students focus on physical and mental health of individuals of all ages in a variety of settings from hospitals to clinics to the home.  Students participate in real-life situations using state-of-the-art simulators that talk, breathe, bleed, give birth and respond - positively or negatively - to prescribed treatments. Students also have the opportunity to see real patients and practice interdisciplinary healthcare in Lyles Porter Hall through the Nursing Center for Family Health. Students are prepared to take the National Council Licensure Exam (NCLEX), which allows them, once passed, to be licensed in the state in which they wish to practice.
Priority application deadline for fall enrollment - November 1
2019 Murphy Award recipient: Pamela Karagory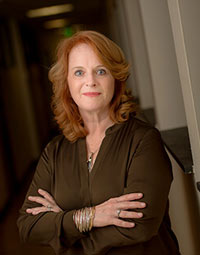 Teaching interests: I am committed to working with students in capturing their passion in developing knowledge, skill, meta cognition and competencies surrounding their focused areas of professional development.
Leadership, self-efficacy and advocacy are the areas that I believe bring value to learning in and of itself. Effective teaching and learning assists students in recognizing what they learn, how they learn, and the ultimate lesson of discovering who they are and what they can contribute to their profession. Nursing is truly a STEM discipline. As nursing faculty, we work tirelessly to build an academic ecosystem that identifies, promotes and educates a nursing profession that is "thinking" versus "doing" profession.
Purdue nursing graduates are first and foremost leaders whose greatest professional currency is their ability to understand the system they are working within and interpret and synthesize data that results in optimal patient and system outcomes on a local and national platform.
On lessons she wants her students to take away from her classes: I want them to know they are empowered to build the foundation and structure of their professional endeavors and future. Purdue graduates will impact the national and global ecosystem through their ability to adapt and support exemplar building. Our graduates know how to identify tough issues, synthesize big data and collaboratively develop, implement and lead problem-solving solutions. They are expected to be bold and tireless advocate for innovative and positive change.
On interacting with students: I have the incredible opportunity to prepare the next generation of professional nurses. A new generation whose knowledge, skills and attitudes are so very different from how I was educated and socialized. This requires me, as a Purdue educator, to be flexible, inclusive and innovative to assure that this generation of Purdue professional nurses are prepared to empower, inspire, promote, shape and lead the health care system well into the future. I truly believe that a future graduate of the Purdue School of Nursing will lead the U.S. health care system and eradicate inefficacies, waste and care inequity. That is the vision of all Purdue nursing faculty, and it brings me teaching joy every day.
What her students say: You are by far the most inspiring instructor I have ever met (and Purdue has some of the best out there). Every single time I am around you my passion for nursing grows exponentially. I am so thankful to have had this opportunity to have this class with you. … It was so apparent she cared about each of her students and wanted to push us to help us perform to our highest level. She was always available to help outside class time for one-to-one assistance when it was needed.
Plan of Study
Nursing Webpage
Transfer to Nursing
Purdue admits to individual majors. Transfer students must meet Purdue's overall transfer criteria, as well as any major-specific requirements. Before you apply, check the closed programs page to confirm this major is open to transfer students. If it is, refer to the information below for major-specific transfer criteria.
Please be advised, Nursing is currently closed to transfer students. 
---
Contact Information
HHS Undergraduate Student Services
(765) 494-8533
hhsrecruitment@purdue.edu
College of Health and Human Sciences
---
Careers in Nursing
Nurses are the largest group of healthcare providers in this country, and the need is growing. Employment rate following graduation has continually been at, or near, 100 percent. Once a year, the Purdue Nursing Student Council sponsors the Nursing Career Fair, which draws numerous healthcare employers from different areas of the country seeking to hire our graduates.
For students interested in pursuing further education, Purdue offers outstanding Master of Science degrees in Adult Gerontology Primary Care Nurse Practitioner, Primary Care Pediatric Nurse Practitioner and Family Nurse Practitioner.
---