Biomedical Health Sciences
Purdue University in West Lafayette
Biomedical Health Sciences is designed to prepare students for entry into professional and graduate schools, as well as other careers in the wide arena of healthcare and biomedical sciences. Building a solid foundation in the biomedical health sciences prepares our undergraduates for the challenges of pursuing a career in the diverse and ever-changing industry of healthcare and health science.
Due to the thoughtful design of our curriculum, students take similar coursework the first two years of enrollment, allowing the flexibility of switching from one pre-professional concentration to another. The most outstanding feature of this degree is that the course requirements for entry into professional or graduate school are incorporated into the plans of study, resulting in no extra coursework for our undergraduates.
Students in the School of Health Sciences often pursue undergraduate research in areas such as toxicology, cancer treatment and prevention, Parkinson's disease, neurodegenerative disorders, heavy metals, health physics, medical imaging, and occupational and environmental health. Students can also participate in an undergraduate honors program, with the ability to potentially conduct research as early as the first year. All students complete HSCI 10100, Introduction to Health Professions, in the first semester. During this course, students have the opportunity to explore careers across the allied health professions and to hear from practicing health professionals to gain an introduction to the numerous opportunities within the healthcare industry.
Students pursuing this major are eligible to apply for the accelerated 5-year Master of Public Health (MPH) program as a junior.
Pre-professional concentrations include Interdisciplinary Health Sciences, Pre-Dentistry, Pre-Medicine, Pre-Optometry, and Pre-Physician Assistant.
School of Health Sciences Honors Program
Students admitted to Biomedical Health Sciences may have the opportunity to participate in the School of Health and Sciences Honors Program, a program that promotes and supports honors research for high-achieving students. 
HHS Meet Our Students: Wing Tung Tsui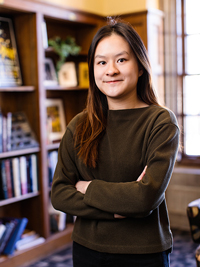 Tell us why you chose Purdue University for your undergraduate education.
Purdue University has a high reputation across the United States. Purdue students have the opportunity to collaborate and communicate with a diverse student population. Purdue also provides a wonderful education and many resources for all majors. I thought studying in this kind of environment would be a great experience.
How would you describe the faculty and staff in the College of Health and Human Sciences (HHS)?
The faculty and staff are friendly and glad to help. They truly care about each student and want them to succeed. They motivate students to explore more about their majors. If you have academic concerns, your HHS academic advisor will offer constructive advice on course planning.
What advice would you give international students who are about to start their first year at Purdue?
At Purdue, you will find fun activities all around you. I would suggest that first-year international students participate in club events and try to meet people from other countries. Opportunities are endless at Purdue! Try to get involved at Purdue, then you can easily find your way to success.
What is your favorite thing about Purdue?
My favorite thing about Purdue is that someone is always there for you. Faculty, staff and friends will be your best company throughout your college life. They are the ones who can help you when you have struggles and will be able to show you the right path when you are lost. Purdue is a great school. I am glad to be a member of the Purdue family!
Tell us about some of your activities at Purdue.
I joined the Boiler Out Volunteer Program my freshman year. This organization has benefitted me personally, academically and professionally. As a volunteer, I have done meaningful community service projects at places such as nursing homes, community centers and food pantries. This was my first time to visit such places. Through this organization, I have enhanced my communication and learned valuable skills, including time management and leadership skills. I have also met friends from around the world. This is my favorite student organization at Purdue. I highly recommended it to students who are interested in helping those in need and giving back to the community.
Plan of Study
Biomedical Health Sciences Webpage
Transfer to Biomedical Health Sciences
Purdue admits to individual majors. Transfer students must meet Purdue's overall transfer criteria, as well as any major-specific requirements. Before you apply, check the closed programs page to confirm this major is open to transfer students. If it is, refer to the information below for major-specific transfer criteria.
Minimum GPA: 3.0
Also: Any combination of at least two courses equivalent to the following Purdue courses — CHM 11500, CHM 11600, BIOL 11000, BIOL 11100, MA 16010, or a calculus-based physics course, with a minimum grade of C in each course.
---
Contact Information
HHS Undergraduate Student Services
(765) 494-8533
hhsrecruitment@purdue.edu
College of Health and Human Sciences
---
Careers in Biomedical Health Sciences
A number of students will also choose to enter into the workforce in various science-based fields, such as research and development, government agencies, biomedical science facilities and community health.
Cardiologist
Chiropractor
Dentist
Gastroenterologist
Health Scientist 
Health Policy Analyst
Optometrist
Orthodontist
Pediatrician
Pharmaceutical Salesperson
Physician Assistant
Product Research and Development
Surgeon
University Faculty
---