Prospective Student Visit Opportunities
Our students are persistent. They drive innovation. And, most importantly, they move the world forward, together. 
---
Are you ready tO GO ON YOUR NEXT GREAT ADVENTURE?
Discover for yourself if Purdue University is the right fit for you!
READY - SET - GO!
Explore the tabs below to discover a variety of visit opportunities and resources available to you. Not sure where to start? Use these filters to HAMMER DOWN the options!
Office of Admissions Visit Opportunities
Our Admissions Counselors and Student Ambassadors are ready to answer your questions and are eager to show you around campus! Register for an In-Person Campus Tour, a Virtual Campus Tour, or a Virtual Admissions Information Session. 
Attention: In-Person Campus Tours in the month of April are prioritized for Admitted students only. Additional on-campus tour opportunities for prospective students will be available this Summer.
---
Contact Admissions
Have questions about your specific situation? Reach out to us via phone (765) 494-1776 or email admissions@purdue.edu
---
---
Explore Your Academic College
---
Want to learn more about Purdue Bands & Orchestras? 
Recruitment & Communications Specialist, Caitlin is willing to "meet" with you virtually. "Get Connected" to set up a FaceTime call or virtual meeting, and don't forget to follow Purdue Bands & Orchestra on Instagram for Student Ambassador Takeovers!
Get Connected
---
Certificate of Entrepreneurship and Innovation
Certificate in Entrepreneurship and Innovation Program
The award-winning and Princeton Review ranked Certificate in Entrepreneurship and Innovation Program is designed to turbocharge any Purdue undergraduate degree. In this program, you will earn a credential similar to a minor by completing five courses, some of which may overlap with requirements in your major.
Click the link below to learn how this program might fit with your major and MORE!
Learn more here
Entrepreneurship Program for Virtual Q&A Sessions
Join the Entrepreneurship Program for Virtual Q&A Sessions via live Zoom video conferencing held Mondays at 11 a.m. and Thursdays at 7p.m. EST now through May 3, 2021. Click on the link below to register via email today.
Register here
---
Discover Diversity at Purdue
At Purdue University, we define Diversity as excellence expressing itself through the intersections of perspectives and lived experiences.
A wide array of opportunities to connect with our Cultural Centers,  College Diversity Programs and more are being developed. Be sure to check this page for updates.
---
Division of Financial Aid
Division of Financial Aid
The Division of FInancial Aid office (Schleman Hall, Room 305) will be open to walk-in visitors beginning January 11, 2021. Office hours will be 10:00 AM to 2:00 PM, Monday - Friday.  Masks are required. Appointments can be scheduled for 2:00 PM to 5:00 PM. Visit the DFA website for contact options and more information. 
Additionally, virtual counseling opportunities are available through Zoom! Counselors will be available on the dates and times listed below, and will happily "visit" with you. Just click the link below during the appointment time, and pop into their virtual lobby.  The host will move you into a virtual counseling room where you can speak privately with a financial aid counselor.  No appointments are necessary – just stop in when it's convenient for you. 
Phone: 765-494-5050
Email: facontact@purdue.edu
Note: All times listed are Eastern DST. 
---
Purdue Musical Organizations
Do you love to sing or ring handbells? Keep performing at Purdue! 
Connect with Purdue Musical Organizations on Facebook, Instagram, and YouTube to learn more about the vocal music department at Purdue University!
For more information about the virtual audition process, visit: www.purdue.edu/pmo. PMO Recruitment Director, Jeff Vallier, is available to answer questions about the audition process. Contact Jeff directly at jvallier@purdue.edu to ask questions and learn more about PMO!
---
University Residences & Dining
Where you choose to live plays an integral role in your college experience. 
Purdue University Residences provide an environment that will make you feel right at home and, at the same time, right in the middle of campus life!
They offer a wide variety of housing choices, dining services, and more!
Learn More Here
Go on a Virtual Visit
Let University Residences & Dining take you on a room tour in one of their residence halls to give you a feel for what it's like to live on campus. They'll also take you inside one of our dining courts to give you a "taste" of our award-winning on-campus cuisine.
Housing and dining administrators will also present on how to sign up for on-campus housing and some other fine details of the process. There will also be students available to give their perspective on what it's like to live, work, and play in the residence halls and dining courts.
Ready to learn more? Click on a date below to join the virtual session!
*Please note all times are at 7:30 p.m., Eastern Time*
*Password is BoilerUp*
Feb 24
March 4
March 11
March 18
March 24
April 7
April 22
April 28
April 29
---
---
Explore Campus
Take a 360-degree look at campus and stop along the way to check out campus facts, photos and videos of the places that you'll frequent as a future Boilermaker!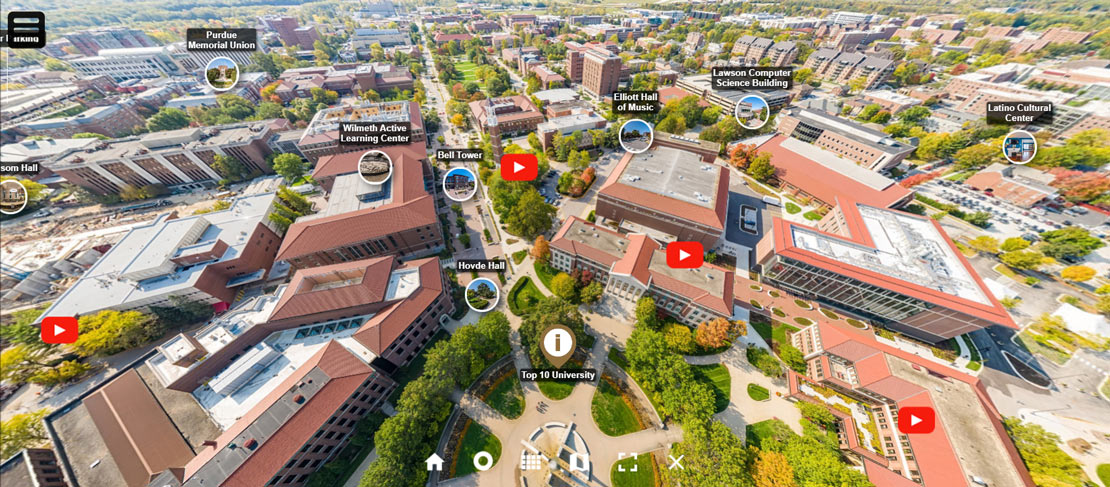 ---