Purdue University in Indianapolis, Purdue University in West Lafayette
Mechanical engineering comprises a wide range of activities that include researching, designing, developing, manufacturing, managing and controlling engineering systems and their components. Mechanical engineering is the broadest of all the engineering disciplines and provides the widest range of career opportunities.
Graduates of the School of Mechanical Engineering have gone on to become CEOs, entrepreneurs, chief engineers, business analysts, astronauts, faculty, physicians, patent lawyers and public policy leaders.
Note: The First-Year Engineering Program is the entry point for all Purdue University in West Lafayette beginning engineering students. They must complete the First-Year Engineering requirements before entering the engineering school of their choice. The mission of this student-oriented service program is to advise, teach and retain outstanding students for Purdue's College of Engineering. This core curriculum includes courses in math, chemistry, physics, computer programming, and communication skills, as well as introductory engineering coursework taught in the new Ideas to Innovation (i2i) Learning Laboratory. The First-Year Engineering Program provides students with a firm foundation and initial understanding of engineering and career options to assist them in identifying which of Purdue's engineering disciplines is the right fit. Our professional academic advisors, faculty and student advisors are dedicated to assisting beginning engineers with the first-year experience.
Student Spotlight: Teryn Azpell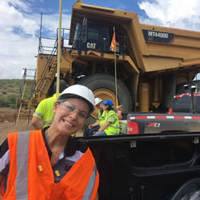 What is your favorite part of engineering?
When asked what my favorite part of Engineering is, the answer is obvious. Engineering offers the opportunity to tackle complex problems while being rewarded with cost-effective, efficient solutions that can be applied to everyday life.
What is your favorite class you have taken and why?
I have always enjoyed math classes, so it is pretty easy to say that my favorite class that I have taken here at Purdue is MA 162, Calculus 2. This is one class I could fully understand due to the abundance of assistant available from other students and professors. I can also see how this math applies to other course material which makes the class even more valuable!
What is the best thing about Purdue?
While searching for highly ranked engineering colleges, I was also looking for a school with a large, diverse student population. Purdue offered that more than any other school I searched. When I walk into my engineering classes, I can always find a friend with similar interests academically and socially! I was fortunate to have an ENGR 131 team full of friends, and we still hang out to this day!
Tell us about a fun memory about your time at Purdue!
I had a great Boiler Gold Rush (BGR) experience and loved my team leaders (TL). I walked into my CHM 115 lab and my TL was seated next to me on the seating chart! We had a blast in CHM lab, and it just shows how Purdue can feel like a big school but can also feel very small at the same time!
What sorts of things are you involved in on campus?
Being involved outside of your engineering classes is very important! On campus, I am involved in Zeta Tau Alpha sorority as the Director of Alumni Relations and in the Global Engineering program as the Director of Outreach! In addition to these leadership roles, I also teach Spanish to local elementary students to help them grow their communication skills within the language.
What is the best advice you received before coming to Purdue?
Many of you are very involved in high school and want to do the same in college. My advice would be to not get too involved in so many organizations your freshman year that you get burnt out and overwhelmed! You have four years to experience as much as you can, but you don't have to dive in all at once! 
What is something you wish you had known when going through the college search process?
I wish I had listened to more of what current students had to say about their school and less of what the adults and advisors said. The students are the ones experiencing what you may experience; they know what they are talking about! They are giving you honest answers when you come on your tours and preview days. Boiler Up!
What is some advice you would give to incoming engineering students at Purdue?
Be open to new experiences! You only get to do college once, so take some risks! Sit by that person you don't know in class or at the dining court. They may become your closest friend!
What is a fun fact about yourself?
I am a third-generation Boilermaker!
Plan of Study
Mechanical Engineering Webpage
Transfer to Mechanical Engineering
Purdue admits to individual majors. Transfer students must meet Purdue's overall transfer criteria, as well as any major-specific requirements. Before you apply, check the closed programs page to confirm this major is open to transfer students. If it is, refer to the information below for major-specific transfer criteria.
Program Availability: Closed to transfers
---
Contact Information
Undergraduate Office, School of Mechanical Engineering
(765) 494-5689
MEundergrad@purdue.edu
College of Engineering
---
Careers in Mechanical Engineering
The many industrial sectors to which mechanical engineers make substantial contributions include:
aerospace/defense
automotive
biotechnology/pharmaceutical
chemical/petroleum
computers/electronics
construction
consumer/food products
energy/nuclear
heavy/off-road equipment
engineering consulting
thermal systems
graduate education
Beyond these traditional roles, mechanical engineers are increasingly pursuing a number nontraditional career paths including:
business/financial services
education
engineering and public policy
law (patent law and intellectual property)
medicine/healthcare (prosthetics, surgical robotics and instruments, human motion kinetics, etc.)
---