Purdue University in West Lafayette
Chemical engineers rely on their knowledge of mathematics and science – particularly chemistry – to overcome technical problems in industry and society.  While the chemist studies basic chemical reactions, the chemical engineer applies the results of chemical research and transforms laboratory processes into efficient, full-scale processes or facilities. 
With their strong problem-solving skills and fundamental background in mathematics, physics, chemistry and biology, chemical engineers can seize opportunities to translate industrial problems into competitive advantages.  Currently, chemical engineers demand among the highest salaries for college graduates with a bachelor's degree. 
Note: The First-Year Engineering Program is the entry point for all beginning engineering students. They must complete the First-Year Engineering requirements before entering the engineering school of their choice. The mission of this student-oriented service program is to advise, teach and retain outstanding students for Purdue's College of Engineering. This core curriculum includes courses in math, chemistry, physics, computer programming, and communication skills, as well as introductory engineering coursework taught in the new Ideas to Innovation (i2i) Learning Laboratory. The First-Year Engineering Program provides students with a firm foundation and initial understanding of engineering and career options to assist them in identifying which of Purdue's engineering disciplines is the right fit. Our professional academic advisors, faculty and student advisors are dedicated to assisting beginning engineers with the first-year experience.
The Engineering Experience: Jennifer Biasi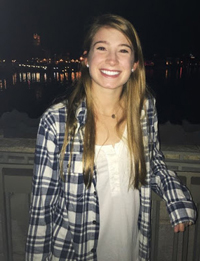 What is your favorite part about engineering?
The school of Chemical Engineering. They are so supportive and I have really grown close to my peers in ChemE.
What is the best thing about Purdue and/or why?
The atmosphere! Everyone is filled with so much spirit and Purdue pride.
Tell us about a funny memory of your time at Purdue!
Being a team leader of BGR! It was great to be able to give back and help new students as they start college.
Why do you love Purdue?
Purdue has so many students but it still feels like home. Everyone is so welcoming and supportive, which I think differs from other schools.
What sorts of things are you involved in on campus?
I am a team leader for Boiler Gold Rush and I am in Delta Gamma, a sorority on campus.
Fun fact about yourself?
I have an identical twin.
What is your favorite class and why?
CHE 205. It is really hard but awesome to be taking a class that I know will be applicable after college
What's something you wish you had known when going through the college search process?
You will eventually find your home. Don't put too much pressure on yourself when deciding where you will go.
What is the best advice you received for college?
If you need help, don't be afraid to ask for it, whether that be from a professor, friend a counselor, etc.
What advice would you give to an incoming student?
Engineering can be hard but don't forget to have fun, make memories and spend time with friends while you are here!
Plan of Study
Chemical Engineering Webpage
Transfer to Chemical Engineering
Purdue admits to individual majors. Transfer students must meet Purdue's overall transfer criteria, as well as any major-specific requirements. Before you apply, check the closed programs page to confirm this major is open to transfer students. If it is, refer to the information below for major-specific transfer criteria.
Minimum GPA: 3.5
Additional Requirements: See the Engineering Transfer Criteria page for more detailed course requirements.
---
Contact Information
CHE Undergraduate Office
(765) 494-5650
cheadvising@purdue.edu
College of Engineering
---
Careers in Chemical Engineering
As a chemical engineer, you can work in product development, process design, management, quality control, pollution control, marketing, technical sales, or other areas.
CHEMICAL PRODUCTS:
Petrochemical industry
Biochemical and biomedical
Polymer materials
Renewable resources engineering
Reaction engineering and catalysis
New/alternative energy
CONSUMER PRODUCTS:
Food and nutritional products
Environmental engineering
Process systems engineering
Risk management
Personal care products
Microelectronics and personal electronics
PHARMACEUTICAL INDUSTRY:
Particle technology
Gene therapy
Tissue engineering
Biological materials
Drug discovery
Drug delivery
Drug manufacturing
Management/business
Transport phenomena
Separation processes
---